Professional Plumbing Services in Aliso Viejo, CA
Emergency plumbers at your service. Call Cali's Choice Plumbing & Restoration!
Plumbing emergencies can cause serious damage and can cost hundreds and thousands of dollars in repairs if immediate action is not taken. For example, your sewer line backs up in the middle of the night and it is vital that a skilled and professional emergency plumber in Aliso Viejo visits your premises and resolves it to stop further damage. This is where Cali's Choice 24 hour plumbers come to your assistance for any plumbing emergencies.
What to do in a plumbing emergency?
If your home is experiencing some kind of a plumbing emergency, don't waste time trying to repair it by yourself. Call for professional help such as Cali's Choice emergency plumber in Aliso Viejo Ca who are capable of handling any kind of plumbing emergency. However, you could take measures to temporarily reduce further damage, such as turning the main valves off until the plumbers arrive.
Cali's Choice 24 hour plumbing services
Cali's Choice Plumbing & Restoration has served many residential clients in plumbing emergencies and we understand how distressing it can be for a property owner to go through such an event. That is why we offer our services 24/7, with well-trained plumber in Aliso Viejo who are dedicated to nothing but getting your property free of plumbing issues as soon as possible.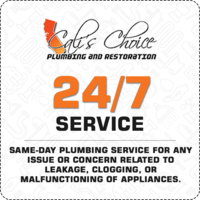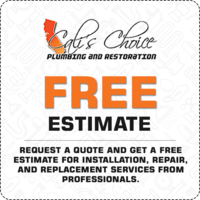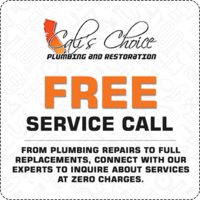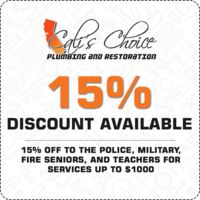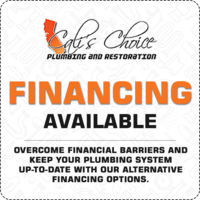 Get services of professional plumbers in Aliso Viejo
Our plumber in Aliso Viejo have undergone advanced training in emergency plumbing repair and restoration, and are equipped with the latest tools and technology to handle all types of emergency plumbing issues. Some of our 24 hour plumbing services include burst or broken pipes, pipe leaks, water heater repairs and Drain Cleaning Service.
Contact Cali's Choice Emergency Plumber in Aliso Viejo, CA
Don't waste time and money trying to repair it by yourself. Call the expert emergency plumber in Aliso Viejo Ca. We quickly arrive at your residential or business property, uncover the problematic areas and fix them right away so you can go back to your normal life.
24 Hour Plumber Aliso Viejo CA
Broken or burst pipes : The longer you wait with a broken or burst pipe sitting around in your place, the more you will have to spend on repair costs. It will not be the only consequence; if left unattended it could lead to mold growth within your premises, which will be much worse than incurring higher renovation costs. Contact Cali's Choice Plumbing & Restoration and we'll be at your doorstep immediately to save you from all the broken or burst pipe troubles.
Water leaks: Water leaks are a common problem any property owner faces sooner or later. While a water leak might start small, it can cause bigger damages that you don't even think of. Located a water leak in your house? Regardless of how small or big it is, contact Cali's Choice Plumbing & Restoration immediately. It is always easier to fix a leak at its initiation, it will save you a lot on repair costs.
Water heater repairs: While you may not discover a pipe leak as soon as the leak starts, you will identify that your water heater is blown from the moment it starts leaking, as it will put out a great amount of water, making it difficult to stop the water from getting everywhere. Our plumber Aliso Viejo will do the needful to water heater repair and stop the leak immediately carry out any further repairs that are required.
Sewage backup: Unlike other plumbing emergencies that call for our services, restoring a sewage backup or a clogged sewer line requires specific expertise, as the exposure of sewage or contaminated water could pose serious health risks. Our experts in sewage backup will quickly arrive at your place and offer both repair and cleanup services.
Why Cali's Choice offers the best
Plumbing Services Aliso Viejo CA
24 Hour Response: Cali's Choice plumbers are capable of arriving at any place across Aliso Viejo within minutes of contacting for emergency services. Our professional emergency plumber in Aliso Viejo is available 24/7, ready to respond and handle any kind of an emergency plumbing situation. Whether disaster strikes in the middle of the night, on a weekend or even on a festive holiday, We are here to help you.
Expertise: Cali's Choice Plumbing & Restoration provides advanced and extensive training to its teams on emergency plumbing repair and restoration. Our technicians are well-experienced and capable of handling all emergency plumbing events in residential premises. Our plumbers are also certified professionals in providing emergency plumbing services.
Years of Trust: No job is too small or big for our plumber Aliso Viejo at Cali's Choice. We have years of experience in serving residential clients in situations with various extents of plumbing damage. Our priority will always be to offer you plumbing repair and restoration services in an exceptional level of quality.