We know better than anyone how serious a flood, leak, or other water disaster can be. No matter if it is noon on a Tuesday or 1 in the morning on Sunday, we'll be there in less than an hour to stop the damage.
Why You Need a Professional for Water Damage Repair in Orange County
A leaking pipe or other water sources can cause some serious damage if not taken care of quickly.  Our experienced water damage plumbers are there with the best fans, humidity gauges, and other devices used to make sure that not only the water, but all of the moisture is first removed from your home or business.
Any excess moisture can lead to mold in the future, so it is absolutely critical not only for your property well being but your personal well being to be sure that all the water is gone.  At Cali's Choice Plumbing & Restoration we do not rest until all of the water is gone, the plumbing issue fixed, and your property restored completely to its original state.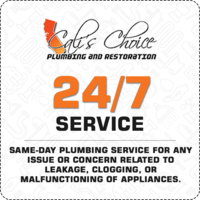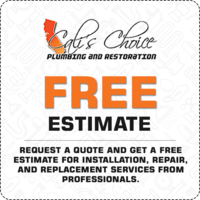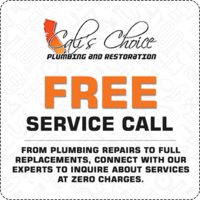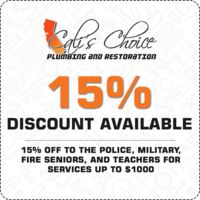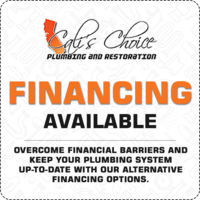 Untreated Water Damage Risks
Even a small leak can lead to disaster if left untreated. The reason is that water has a way of seeping into cracks behind your walls, in your floor, or in your ceiling, even if you cannot see it. When water begins to pool in an area it will slowly rot the materials it is sitting on, in the case of most buildings this will be wood or drywall. These materials will slowly decay and affect other areas of your home. By the time you see a wet spot or other visible damage somewhere in your house, the damage is already fairly severe and must be taken care of quickly.
While water damage is a serious problem, the positive aspect is that most home insurance policies will cover water damage repair Orange County. Even better, we work with every major insurance company directly and will make sure your water damage is covered, you won't have to pay anything out of pocket except your deductible!
Cali's Choice Water Damage Restoration Orange County
Not only will we insure that all the water is removed from your home, but we have a full service construction side of our business as well.  This gives us the power to completely restore your home to new, without the use of outside contractors or companies.  You won't need to deal with multiple insurance claims and paperwork, we'll take care of everything for you in one smooth project.  Get your life back to normal with our full service of water damage, water remediation, and water damage repair.
Plumbers with extensive experience in water damage and restoration
Emergency service can be at your house in less than an hour, any time day or night
No job is too big or too small
Direct insurance billing for any home damage, water damage, or restoration
Get up to $1,000 OFF your insurance deductible, instant savings
Licensed, bonded, & insured plumbers, they're friendly too!
We treat our customers like royalty, no matter how big the job