Cali's Choice Plumber in Santee
Looking for a plumber you can count on? Call Cali's Choice Plumbing & Restoration
No property owner can foresee plumbing problems. What you can do is to entrust your plumbing to a professional plumber in Santee CA with the right expertise. If you are in Santee, CA, you can count on our experts at Cali's Choice for all your plumbing repair, installation and replacement needs. Our teams are capable of quickly responding and restoring a plumbing event of any size. We offer 24/7 plumbing services to all residents and business owners of Santee, CA, and surrounding areas. We are just a phone call away.
Cali's Choice – Comprehensive Plumbing Services
Do you need to fix your broken plumbing, a new water heater installed or to repipe your entire residential property? You don't have to search far and wide to find a proficient plumber in your town since Cali's Choice Plumbing & Restoration is right here for you. Select Cali's Choice as your preferred plumber in Santee and enjoy our years of extensive plumbing experience, quality workmanship through well trained technicians, attention to detail and affordable prices.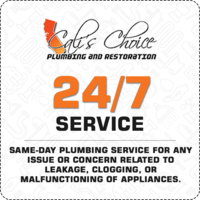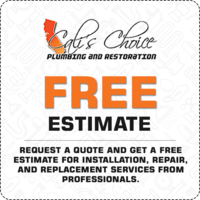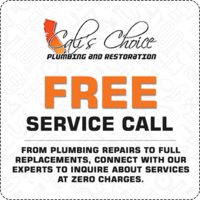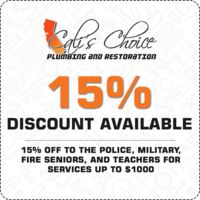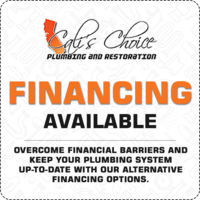 Cali's Choice Plumber in Santee CA
Plumbing problems don't adhere to the usual business hours. With our 24/7 service throughout Santee, CA, it doesn't matter when you are hit with a plumbing problem. Our teams will be at your premises within just a matter of a few minutes. Cali's Choice plumber in Santee handle everything from repairing your broken or faulty plumbing, cleaning your drain pipes to installation and replacement of all plumbing fixtures and appliances in your property.
For the Finest Plumbing Services in Santee, Call Cali's Choice
Are you looking for a plumber in Santee you can count on in Santee or nearby areas? Then contact Cali's Choice plumbers, and discover how we can help you with a top of the range service. We offer same-day services as well as 24 hour emergency plumbing services. Customer satisfaction is the No. 1 priority at Cali's Choice Plumbing & Restoration. Our teams will not wrap things up until we resolve all of your plumbing related problems and you are 100% happy with our service.
Cali's Choice
24 Hour Emergency Plumber in Santee CA
Kitchen, Bathroom and Toilet Plumbing
From leaky kitchen sinks and faucets to broken showers, leaky toilet bowls and clogged toilets, there could be numerous problems in your kitchen, bathroom and toilet plumbing. Contact us to fix all the plumbing issues that are troubling you. If repairs are no longer a solution and parts need to be replaced, we can help you with that as well. We offer installation services for all plumbing fixtures from installing a sink and a faucet to the remodeling of an entire bathroom.
Leak Detection and Repair
Having leaky plumbing in your property can cause you to spend unnecessarily on water bills as well as expose you to the risk of mold growth. Contact Cali's Choice and get your property inspected for areas with leaks. We use cutting-edge technology that can identify every single leak within your property. Our teams will fix all discovered leaks right.
Contact Cali's Choice for all your water heater repair, service and maintenance, replacement and installation needs. We repair all brands and types of water heaters. If you think you need to replace your old one with a new unit, we offer installation services for all types of water heaters from tanked, tankless, hybrid, condensing to solar powered water heaters.
Sewer and Drain Cleaning Services
Got a clogged drain in your backyard? Contact us immediately before the clogging gets worse. Our teams will remove the blockages and clean your sewer lines right away. Our sewer and drain cleaning services include drain snaking, camera based drain inspection, drain unclogging and high end drain cleaning services such as hydro-jetting as well.
Why go for Cali's Choice
24 Hour Emergency Plumbing Service in Santee CA
What makes Cali's Choice the preferred and the most trustworthy plumbing repair and installation services provider for thousands of residential customers in California? Here are some points worth noting that continually make us the best.
24 Hour Express Plumbing Services

– Our plumber in Santee is available 24/7 to serve all the areas in Santee, CA. Cali's Choice teams offer a fast response to all your calls and concerns, and deliver 100% reliable services in compliance with all required standards.

Our Proven Success

– We use advanced and efficient plumbing repair and replacement techniques and modern equipment to ensure fast as well as optimized solutions to all your problems. We also ensure excellent customer service and 100% satisfaction.

The Best Prices in Santee

– Call us to get a quote for your plumbing repair or installation job. We are confident that we'll be able to offer a much better and fairer quote than the rest of the plumber in Santee CA. We will never compromise on quality for low prices.