Hire Cali's Choice Plumbing & Restoration For Guarantee-backed Solutions
Cali's Choice Plumbing & Restoration as the plumbing firm is trusted by property owners all over the state. For more than 30 years, we have been serving countless citizens. Our world-class service delivery and straightforward approach have given us the confidence of the people. Our plumbers are licensed, certified, insured, and bonded. We strictly observe all basic industry rules and laws. However, we have skilled and experienced plumbers and contractors for various repair jobs. We offer a wide range of plumbing services. The possibilities are limitless, and the scope is vast. We provide plumbing repairs, installations, replacement, and maintenance for both residential and commercial properties. Contact us right away if you need the services of a plumber in Anaheim.
Our customer response rate is excellent. Our plumbers of Anaheim will arrive at your property within an hour of receiving an emergency request. Our plumbers arrive with all of the necessary tools and equipment, so there is no time to waste. Our plumbers ensure that plumbing jobs are completed as efficiently as possible while reducing overall service time and disruptions to your routine activities. Call us for any kind of plumbing issues or installations! Our customer support team will be delighted to help you. We offer no-obligation, free consultations whenever you need to consult about any plumbing services.
Our emergency response team are available 24/7. So, If you need an emergency plumber in Anaheim, CA, you can call us at any time of day or night.
We provide one-stop solutions for Plumbing services in Anaheim, and our professionals are extremely well trained and registered. We have dedicated teams for all types of Anaheim Plumber. We can quickly restore your property to its pre-damage condition. We have a very flexible approach and offer prompt delivery. In the majority of cases, we conduct an initial thorough inspection to determine the root cause of the problem and then proceed to solve it. Our consultants will suggest possible solutions to your problems. Also, we will always recommend the most cost-effective ones. Before making final decisions, we consider a variety of factors such as property type, location, energy situation, and material type.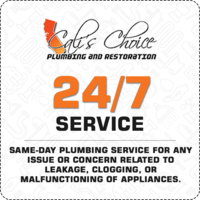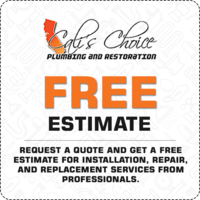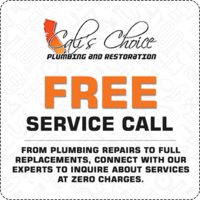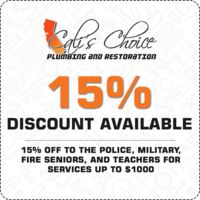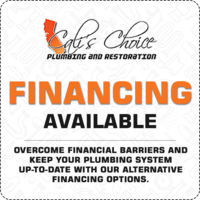 Cali's Choice Plumbing & Restoration Covers
Residential Plumbing Services
If you are in need of repair or maintenance, and are covered by our contracts, all repair work is very cost-effective. If you do not have a contract with us, you can still count on our plumbing repair services in Anaheim for the most competitive pricing options in the city. The way our service facilities are developed gives us a lot of pricing advantages, which we transfer to you. There is never any compromise on quality. Our expert plumbers in Anaheim Hills offer 100% guaranteed services, backed with warranties as well.
We have specialized teams for commercial plumbing. These include shopping malls, schools, restaurants, retail outlets, office buildings, hospitals, or any other commercial space. We also have a very good track record in plumbing services for municipal properties. As soon as Cali's Choice arrives on the scene, they provide an upfront cost estimate and adequate consultation.
Using the most up-to-date tools and technology, our plumbers will assess the situation and recommend the best solutions. However, the solutions range from the most cost-effective on the market to the incorporation of top-of-the-line exclusive items. We are one of the most approachable plumbing services in Anaheim due to our wide range of services.
Hire Cali's Choice Plumbing & Restoration for their timely, dependable, and customer-focused service. We will constantly prioritize your needs and requirements. The plumbers will work day and night if necessary to accomplish the job within the given time frame and according to the plans. We have a stellar reputation as a company with leading plumbers in Anaheim. Whatever your issue is, We will have a suitable solution. We have established a strong management structure that is both proactive and adaptable. It will organize all of your plans into a manageable work, breakdown structure, and work to assure flawless completion.
Whatever your plumbing service requirements are – pipe repair, repiping, leak detection and repair, bathroom and toilet plumbing repair or installation, kitchen renovation – you will find a professional plumber at Cali's Choice Plumbing & Restoration. We also strictly comply with county, state, and federal laws and communicate with our clients to ensure that legal decisions, requirements, and regulations are followed. Working with us guarantees that you will never be in any legal difficulty.