The California drought has caused a lot of changes in our communities, and residents of the Anaheim Hills now have to be more careful than ever before about their water usage. In May of 2015, the Anaheim City Council approved water restrictions that limit landscape watering to two days per week. This new era of careful and conscious water usage has a hidden component. It's more important than ever to watch for water leaks around the home. If you suspect a slab leak in your Anaheim Hills home, Cali's Choice Plumbing & Restoration is your top choice to take on the job.
A slab leak can be a real nightmare for a homeowner. These leaks begin when damage occurs in a pipe that runs below the concrete slab beneath a home. This damage can come from a variety of causes, such as poor water quality, corrosion in the pipes, improper soldering, copper wrapping on the pipes, or shifts in the foundation which snap the piping in two.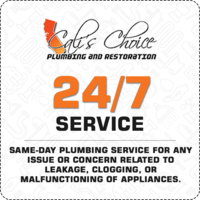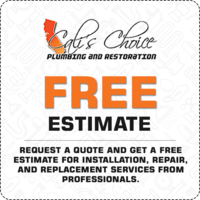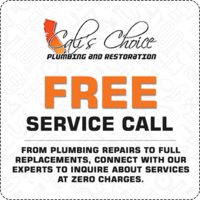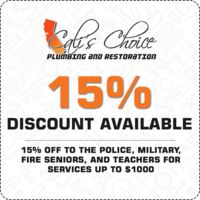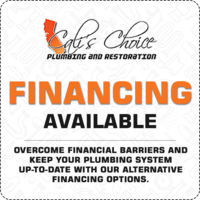 Signs that you might have a slab leak include:
A sudden increase in your water bill.
The sound of water moving through the pipes when it shouldn't be.
Moisture beneath the carpet or floorboards.
Mold or mildew stains.
Cracks in the flooring or walls.
Keep in mind that not all of these signs necessarily indicate a slab leak. For example, a sudden increase in your water bill could mean that water is leaking somewhere else on the property.
What Should You Do if You Suspect a Slab Leak?
Signs of a slab leak should never be ignored. Slab leaks require the assessment of a professional. Since the situations that lead to these leaks can vary, it takes an experienced professional to determine what is going on and come up with an effective course of action for repair.
Keep in mind that the best course of action won't necessarily be the most affordable. An effective solution will not only address the current leak but also the situation that caused it. Considering all of your options is always a good thing, but don't wait too long before taking action. Small leaks will grow larger over time, and the problem can worsen quickly.
How do Professionals Repair a Slab Leak?
After using the latest technology to detect the leak, your technician will have a few options to choose.
Rerouting: This involves retiring the piping that runs beneath the house and replacing it with an above-ground line.
Direct-access Repair: This solution requires creating a small opening in the concrete, accessing the pipe and adding a new section of pipe to replace the leaking area.
Epoxy Restoration: This option is similar to direct access, but instead of replacing a section of pipe, it involves applying leak epoxy to stop the leak.
Can a Plumber Help with a Slab Leak?
Only an experienced Anaheim plumber can properly assist you with a slab leak. Plumbers can inspect every part of your system to find the underlying problems that might be contributing to your leak. They will provide you with a diagnostic report as well as a list of options for repair. Working with an experienced plumber is the best way to get the job done as affordably as possible.
Please contact Cali's Choice Plumbing & Restoration today for more information about slab water leak repair Anaheim Hills, California. Don't wait!