Cali's Choice Plumber in La Habra
To get the Plumbing Services you Deserve, Call Cali's Choice Plumbing & Restoration

Plumbing repair and installation can be a tricky job. Property owners will often hire a plumber in La Habra only to find out that the job wasn't done properly and would need another plumber to complete it. That won't be a problem when you go with our plumbing services. We provide the best plumbing repair and replacement services with the guarantee of getting the job done right the first time. Our teams are available to fix your leaky plumbing and replace your broken fixtures anywhere, anytime in La Habra.
Cali's Choice Plumbing & Restoration – Skilled and Courteous Plumbers in La Habra
Sometimes it can be exhausting to find a trustworthy plumbers in La Habra. We have been in business for over decades, proudly serving various cities in California. With 24/7 services availability, you know you can call us on any day at any time and have no doubt that you will receive the best plumbing services La Habra has to offer. We are proud to say that our teams are the finest in the industry when it comes to plumbing repair and installation services. From repairing your leaky faucets, cleaning your drain pipes to the repiping of your entire property, we handle everything.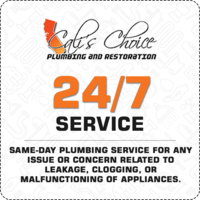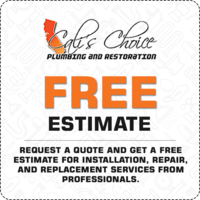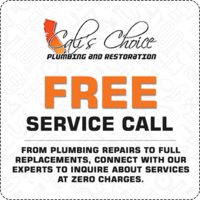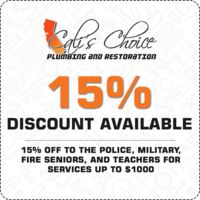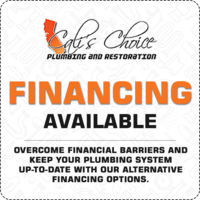 Get in touch with Cali's Choice Plumbers in La Habra
You may find yourself in a tight spot when it's late night and one of your pipes has suddenly burst. Most plumbing services throughout La Habra might not be capable of quickly responding at that time. Our plumbing services are available 24/7 to all places across La Habra. With one phone, a team of expert plumber in La Habra will be on their way to assess and fix all your plumbing troubles. Our teams always come ready to handle a plumbing event of any size.
Call the Cali's Choice Expert Plumbers in La Habra, CA
Instead of waiting until your plumbing problems turn into a total crisis contact the La Habra Plumber. Our professionals are experienced in diagnosing all of your plumbing problems, replacing your faulty plumbing fixtures and keeping your plumbing system in great shape.
Cali's Choice Plumbing & Restoration
24 Hour Emergency Plumbers in La Habra, CA
Kitchen, Bathroom and Toilet Plumbing
Having faulty plumbing fixtures aren't just annoying- it could lead to a major plumbing problem at the most inopportune time and turn your place into total mayhem. Don't leave it even for another day if you have malfunctioning plumbing in your property. Call us for all your kitchen, bathroom and toilet plumbing needs. We repair and replace all your plumbing fixtures from the toilet, bidet, showers to the kitchen sink and faucet. There's no plumbing fixture that we can't repair.
Leak Detection and Repair
Did you know that having leaking plumbing can lead to the risk of mold growth and has the possibility of causing health risks and water damage risks? Call Cali's Choice Plumbing & Restoration for a full inspection of your property for leaky pipes and fixtures. We detect and repair all leaks from something as easy as a leaky faucet to a complicated slab leak.
Sewer and Drain Cleaning Services
A sewage overflow or a burst sewer line can cause severe risks to your property as well as for your health. Contact us for all your small and big sewer and drain cleaning needs. Our experts in sewer services undertake everything from snaking your drain pipes, unclogging sewer lines to restoring a burst sewer line or sewage backup.
Having a cozy shower in the evening is one of the best things that you can enjoy after a long hard day. If your faulty water heater is in your way of enjoying that it can be a problem. Call us for all your water heater related needs. We repair all types and brands of water heaters. If you need a new water heater, we install a wide range of brand new water heaters.
Why go for Cali's Choice Plumbing & Restoration
24 Hour Emergency Plumbing Service in La Habra, CA
Know why our Plumber in La Habra is the most proficient in offering you extensive plumbing repair, replacement and installation services and the top choice of many home and business owners throughout La Habra, CA and the surrounding areas.
24 Hour Rapid Response – Disaster strikes at the most inopportune moment. With our 24/7 plumbing services in La Habra, Cali's Choice Plumbing & Restoration has got you covered. With one phone call, a team of expert plumbers will be on their way to assess and fix your issues.
Decades of Experience in Plumbing Services – Our long years of experience in speedy and effective plumbing repair and installation enables us to assure you 100% guaranteed outcomes and a smoothly running plumbing system in your property.
Services of Trained and Certified Experts – Our plumbers in La Habra are licensed and well-trained to carry out all types of plumbing repair, installation and replacement services. We are proud to say that our teams of plumbers are some of the finest in the industry.