Professional Plumbers at Your Service, Call Cali's Choice Plumbing & Restoration!
A minor plumbing problem within your property can turn into a total disaster if it is not fixed immediately. Getting it repaired by an expert is vital to ensure a job well done. If you are looking for a plumber that you can rely on for your residential property, trust Cali's Choice Plumbers in Moreno Valley CA. Our teams cater to all residential plumbing needs in Moreno Valley and surrounding areas. Whether you need your leaky faucet in the kitchen to be fixed or an entire property to be repiped, you can count on our skilled teams to deliver a great job.
Cali's Choice – On-time and Efficient Plumbing Services
Finding a reputed plumber in Moreno Valley that you can count on in case of an emergency can be tough. Make Cali's Choice your top choice and get the peace of mind you deserve at a time of distress. Our plumber Moreno Valley have decades of experience in all kinds of plumbing and related services. We specialize in a range of Moreno Valley plumbing services, from repairs and maintenance to installation and replacement of plumbing fixtures and systems.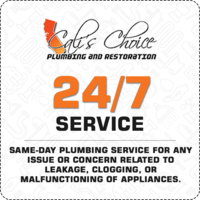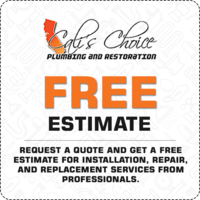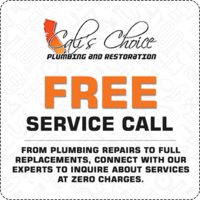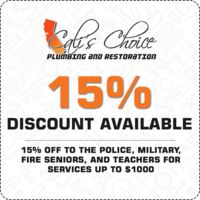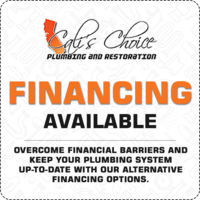 Cali's Choice Plumbing Services in Moreno Valley, CA
Cali's Choice has served many residential clients in plumbing emergencies and we understand how distressing it can be for a property owner to go through such an event. That is why our plumber in Moreno Valley is offered 24/7 across the city. Our plumbers have undergone extensive training that helps them to efficiently get your property free of plumbing issues while maintaining a superior level of service quality.
Contact Cali's Choice for Trustworthy Plumbing Services
Say goodbye to broken faucets, leaky pipes and clogged sewer lines. When you need a broken plumbing fixture to be fixed, your plumbing system to be serviced or installation of a plumbing system in your property, look no further than our teams of highly skilled plumbers in Moreno Valley CA. Feel free to call us to find more about our plumbing services, offered at very affordable prices.
Cali's Choice
24 Hour Emergency Plumbers in Moreno Valley CA
Kitchen, Bathroom and Toilet Plumbing – Contact us for all your kitchen, bathroom and toilet plumbing repair, maintenance, installation and replacement needs. Our teams repair everything from your leaky toilet bowl, bidet, bathtub to your kitchen sink and faucet. We also offer installation and replacement services of all plumbing systems and fixtures from your toilet to the kitchen.
Drain Cleaning Services – A clogged drain can be something more than just an inconvenience if you don't take immediate action. Call us and get your sewage and drain cleaning needs resolved from the experts in sewage backup. Our drain cleaning services include drain snaking, camera based drain inspection, drain unclogging and restoration of burst sewer lines and main line drains.
Water Heater Services – From repairing your broken water heater, service and maintenance of water heaters to the installation of brand new units, we offer all kinds of water heater services. Our teams repair and service all brands and types of water heaters, with various sorts of issues. If you are planning to install a new water heater, our experts will recommend the right model based on your needs and install them at your premises. From tanked, tankless to hybrid and solar powered water heaters, we install them all.
Water Leak Detection and Repair – Our plumber in Moreno Valley is capable of locating even the most hidden water leaks. We carry out a thorough inspection of your entire property using modern equipment to identify all and possible leaks. We detect and repair leaks from something as easy as a leaky faucet to things which are slightly complicated to locate such as slab leaks.
Why Cali's Choice offers the best
Plumbing Services in Moreno Valley, CA
When selecting a plumber in Moreno Valley for your residential property, it is important to know whether the plumber has undergone relevant industry training and is licensed to handle your plumbing job. With a Cali's Choice plumber you got nothing to worry about.
Background-checked, well-trained and licensed plumbers – We hire plumber Moreno Valley with a good track record, after doing a careful and thorough background check. We also provide our plumbers with extensive and advanced training to handle all sorts of events.
Rapid Response – Our teams are capable of arriving at any place across Moreno Valley, CA, within an hour or within minutes. They always come well equipped to handle any type of issues from repair to replacement of plumbing system parts and fixtures.
Our Proven Success – We have been catering to people of Moreno Valley in all their plumbing needs for many years, and we continue to grow our base of satisfied clients across California through quality workmanship and courteous customer service.