Plumbing Crisis in Rancho Santa Margarita? Call Cali's Choice Plumbing & Restoration
Keeping your plumbing system well maintained at all times is as important as keeping yourself healthy. It is because every household and business is so relied on its plumbing system that if it goes wrong, everything can turn into total mayhem. At the first sign of a problem, get it checked and fixed from a skilled and qualified plumber in Rancho Santa Margarita. Hire the experts at Cali's Choice Plumbing & Restoration for all your plumbing repair, installation and replacement needs in Rancho Santa Margarita, to ensure to get the job done right the first time.
Cali's Choice Plumbing & Restoration – Efficient and Affordable Plumbing Services
Every plumbing event is unique and should be treated distinctively. Our technicians are well experienced in handling all minor and major residential plumbing jobs. Our teams undertake everything from relatively minor tasks such as fixing a leaky faucet or a broken pipe as well as comparatively bigger undertakings such as restoring a burst sewer line or repiping an entire residential property. There's nothing that our plumber Rancho Santa Margarita cannot repair or replace in your plumbing system.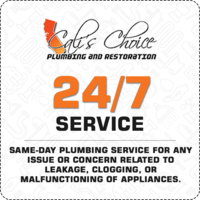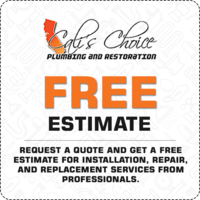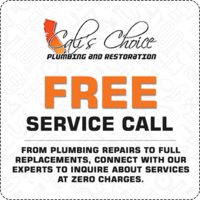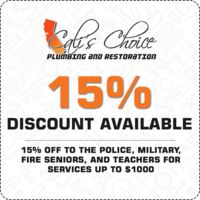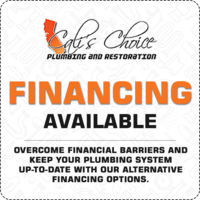 Cali's Choice Emergency Plumber Rancho Santa Margarita
There's no definite time for your plumbing system to go wrong. When disaster strikes, you don't have time to spare to go look for a reliable plumber who is available at the time of failure. That is why Cali's Choice emergency plumber Rancho Santa Margarita is available 24 hours. If you encounter an event that requires instant plumbing repair or restoration services, do not hesitate to call us. A team of expert plumbers will be on their way to assess your issues.
Contact the Professional Plumber Rancho Santa Margarita
We have fully licensed and insured teams of plumbers and technicians, and we have been operating for over three decades in California. We hire experienced plumber in Rancho Santa Margarita, with the right certifications to ensure that you get risk-free and error-free services first time right. Are you looking for a plumber you can rely on for any kind of plumbing issues? Then look no further than Cali's Choice Plumbing & Restoration.
Cali's Choice
24 Hour Plumber Rancho Santa Margarita, CA
Kitchen, Bathroom and Toilet Plumbing –

Got leaky plumbing in your bathroom or kitchen? Contact us to fix all your leaky faucets, bidets, showers and kitchen plumbing. We'll fully inspect your bathroom and kitchen, identify areas with leaks and fix them, so they won't drip another drop of water. Are you planning to remodel your bathroom? We got it covered too. We offer installation services for all major brands of toilets, bathroom and kitchen plumbing fixtures and appliances, that meets your budget.

Water Heater Services –

Stepping into the shower and realizing that your water heater isn't working can be shocking. Contact Cali's Choice Plumbing & Restoration to avoid all water heater surprises. We'll take care of all reported issues and perform a full checkup of your water heater so you don't have to go through another unexpected freezing shower. Unfortunately, no water heater is built to last forever. If it is time for you to replace your water heater, we offer a variety of water heater options, from conventional tanked to solar heaters.

Sewage and Drain Cleaning Services –

Contact the experts at Cali's Choice Plumbing & Restoration and keep clogs from coming back. Our experts in sewage backup and drain cleaning handle everything from snaking your drain pipes to completely restoring a sewage backup or a burst sewer line. Our teams follow the latest technologies such as hydro-jetting to clean and get rid of blockages in your drains.

Water Leak Detection and Repair –

There could be multiple places of leaks in your property without you knowing about. Contact us for a thorough inspection of your property for areas with leaks. We detect and repair every single leak within your premises.
Why go for Cali's Choice
Emergency Plumbing Service in Rancho Santa Margarita, CA
When it comes to emergency plumber services in Rancho Santa Margarita CA, what makes Cali's Choice Emergency Plumbers the best in town? Discover the highlights that make our services stand out from the rest of the similar services providers.
24/7 Rapid Response –

We are available 24/7, and ensure very fast responses when we get an emergency plumbing service request. We arrive on time and well equipped to deal with the reported issues. Our plumber in Rancho Santa Margarita is dedicated and trustworthy. Call us whenever you need emergency plumbing repair and restoration services.

Certified, experienced and professional technicians –

We specialize in emergency plumbing repair and restoration. Cali's Choice Plumbing & Restoration teams have extensive training and are furnished with state-of-the-art equipment to get rid of all your plumbing problems.

Honest and Fair Pricing –

We are always transparent and straightforward in our communication so that you know you are getting a fair price for our service. Cali's Choice Plumbing & Restoration would never overcharge you with unjustifiable and excessive prices in a time of distress.