Cali's Choice Plumber in Garden Grove
Flush away all your Plumbing Problems with Cali's Choice Plumbing & Restoration

When it comes to plumbing repair and installation, we cannot afford to make any mistakes. Therefore as a property owner, you should select the right professional plumber in Garden Grove with the right experience to trust your plumbing. With Cali's Choice Plumbing & Restoration, you don't have to worry about getting the job done right the first time. Our teams provide fast and efficient repair, installation and replacement services of your plumbing system. When you hire us, you are relying on the best technicians and plumbers in Garden Grove CA.
Contact us for Outstanding Plumbing Services

Home and business property owners of Garden Grove, CA, deserve the services of a proficient plumber and Cali's Choice Plumbing & Restoration is here to deliver the best version of that. Our Garden Grove Plumber are well trained and experienced, so you won't have to have doubts on a job well done. We have been in business for over decades now, so you can be confident that our teams have come across all types of plumbing issues and events during the course of their service. No matter how big or small your plumbing job is, we assure you a fantastic and thorough plumbing job at affordable prices.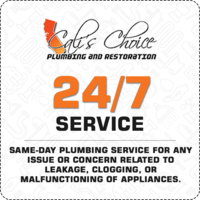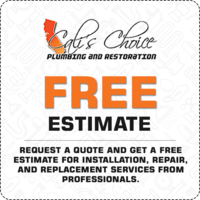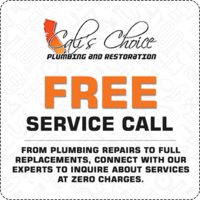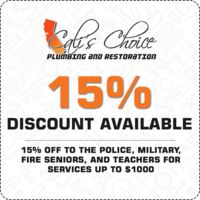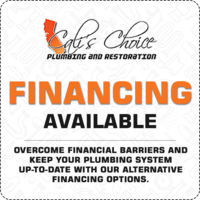 Cali's Choice Plumbers in Garden Grove CA
Plumbing problems don't always occur when it is convenient for you. Don't let a plumbing issue ruin your happy home or sideline your business operations. If you are confronted with an issue that requires urgent plumbing repair or replacement services, call Cali's Choice Plumbing & Restoration right away. Our plumbing services are available 24/7 in Garden Grove, CA, to attend to all kinds of plumbing-based issues. Call us at any time of the day or night, and our plumber in Garden Grove will be at your doorstep at the promised time.
Contact Our Plumbers in Garden Grove – Licensed, Certified
Call the professional and licensed plumbers in Garden Grove CA. Get all plumbing repair and installation needs in your home or business property fulfilled. All it takes is one phone call to get our team of experts to assess and fix all your plumbing problems.
For any plumbing service need, contact a Cali's Choice
Plumber in Garden Grove
Kitchen, Bathroom and Toilet Plumbing
Your plumbing system will not work in the same condition for the rest of its useful life. Your fixtures might be outdated and your pipes might look like they can burst at any time. Contact Cali's Choice Plumbing & Restoration for all your kitchen, bathroom and toilet plumbing needs. We repair everything from your clogged toilet to the leaky sink in your kitchen. If fixtures need to be replaced, we offer installation services for a number of major brand plumbing fixtures, that meet your needs and the budget.
Leak Detection and Repair
Are you pouring money down the drain with leaky plumbing all over your place? Contact our experts and get rid of all the leaky pipes and fixtures in your property. With the use of modern technological devices, we detect every single leak within your property. Our plumber in Garden Grove will fix all the leaks identified and ensure they won't drip anymore.
Are you tired of taking lukewarm showers? Contact us to enjoy your cozy showers again. We offer all water heater related services from repairing, servicing and installing new water heaters. Our teams repair all brands and types of water heaters. If you need to replace your water heater with a new one, we have everything from tanked to hybrid heaters.
Sewer and Drain Cleaning Services
Don't wait until your clogged or damaged pipes turn into a burst sewer line. Contact us for all your sewer and drain cleaning needs. We have in-house teams of experts on sewer related services, who are capable of snaking your clogged drain pipes to restore a burst sewer line or a sewage overflow. We can clean your drain faster than you expect.
For 100% reliable and on-time
plumbing services, go for Cali's Choice
24 Hour Emergency Plumbers in Garden Grove CA
Why go for Cali's Choice Plumbing & Restoration in Garden Grove, CA? Here are some of the points worth mentioning about why customers continually choose our plumbing experts over other similar services providers in Garden Grove.
24/7 Rapid Response – We understand that quick response and fast action is essential when it comes to plumbing issues. That is why we offer 24/7 plumbing repair and installation services to all places across Garden Grove. We are always here to help.
Affordable Pricing Options – We offer services at reasonable prices, as well as ensure that there are no hidden costs to surprise you later. For replacement and extensive installation, we also help you get low cost but certified plumbing fixtures and appliances.
Licensed, Trained and Experienced Technicians – Our teams of plumbers and technicians have undergone extensive and advanced training. They also have years of experience handling plumbing events and licensed plumbers in Garden Grove CA.