Emergency Plumbing Crisis in Eastvale? Call Cali's Choice Plumbing & Restoration!
It can be at the weekend, on a festive holiday or at the dead of night – plumbing emergencies happen when you least expect them and you cannot schedule a prior service unlike with other restoration jobs. Our Eastvale Plumber is available 24/7 and can reach any place across Eastvale within minutes.
What to do in a Plumbing Emergency?
Once you have identified a plumbing issue at your place, it is advisable to immediately contact a professional emergency plumber in your area such as Cali's Choice Plumbing & Restoration, that can quickly arrive at your place and fix your plumbing issue. However, you could turn off water supply into the problematic area, to temporarily stop the leak until the plumbers arrive at your home. You should, however, make sure that your actions do not pose any safety risks to you or any other residents.
Cali's Choice Plumbing & Restoration offers guaranteed plumbing repair services
Our teams of plumbers have undergone advanced and extensive training in professional emergency plumbing. They are furnished with all modern tools and equipment to offer quick solutions in plumbing emergencies. Our plumber in Eastvale have a proven track record of serving residential clients. All of our services come with a guarantee.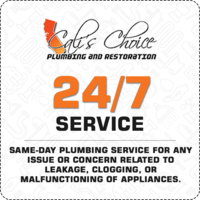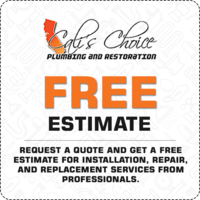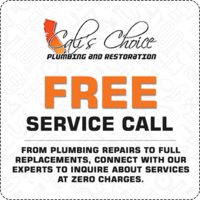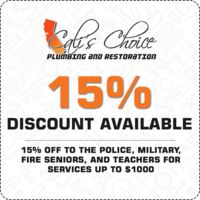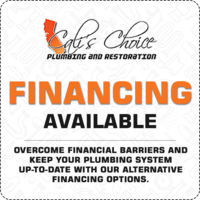 Cali's Choice emergency plumbers in Eastvale
Our plumber in Eastvale have years of experience in handling various types of residential plumbing emergencies such as toilet repair, drain clogs, leak repair and restoration of backed up sewer lines. Our plumber teams in Eastvale could respond to any place across the city immediately, day or night.
Contact licensed plumbers in Eastvale
Most plumbing jobs require licensed plumbers to ensure error-free solutions following standard practices. Our plumber in Eastvale are licensed and get all your plumbing issues solved first time right. We respond quickly to your needs, uncover the exact problems, fix them and offer you 100% satisfaction with our fast, efficient and top quality repair and restoration services.
Cali's Choice
24 Hour Emergency Plumbers in Eastvale
Broken and leaking pipes: A broken or a leaking pipe could be in any part of your house. It can be the bidet shower in your bathroom, the sink pipe in your kitchen or an outdoor spigot that connects your garden hose. Regardless of where the leak is, it will cause your water bills to rise if not fixed quickly. Contact Cali's Choice Plumbing & Restoration and we'll fix all of your broken and leaking pipes and save you from having to spend on wasted water.
Blown water heaters: A broken down water heater could start spilling out water, making your place a total mess within minutes. In such an event, you should take measures to immediately close the valves that are feeding water into the water heater, and contact our emergency plumber in Eastvale. We'll quickly arrive at your premises, inspect the water heater, fix the issues or advise you if it needs to be replaced.
Clogged pipes: A clogged pipe or a drain should be immediately taken care of before it advances to its next step of bursting. Some common symptoms of a clogged drain pipe are funny sounds and strong odors from the sewer lines. If you notice such events from your sewer lines, chances are your sewer lines are starting to clog or have already been clogged. Contact us before your clogged sewer line bursts! Our experts in sewage backup will inspect and fix your sewer lines in no time.
Slab leaks: Do you hear the sound of water running through even when all your fixtures are turned off? This is a sign that you are having a slab leak in your home. Contact Cali's Choice Plumbing & Restoration and get it inspected by professionals, to save you from structural damage and possible mold growth caused by long-left slab leaks.
Cali's Choice offers
24 Hour Plumbing Services in Eastvale, CA
24/7 Availability: Our teams are capable of responding to any site in the Eastvale area within an hour or in minutes. Our plumber in Eastvale are always on standby ready to respond you require our services. It can be in the middle of the night or a Sunday morning, we are always here to serve you.
Great Technicians: Our plumbers and technicians have extensive and advanced training in professional emergency plumbing Eastvale CA. We have also provided our teams with state-of-the-art equipment so we can offer you a top-quality service. Our plumbers in Eastvale are also certified professionals and have years of experience in handling plumbing emergencies of various scales.
Excellent Customer Service: Cali's Choice Plumbing & Restoration teams are always dedicated to offering exceptional and unmatched service when it comes to repairing and restoration. We always make sure that we deliver what our customers expect from us.