Emergency Plumbers at Your Service, Call Cali's Choice Plumbing & Restoration!
A pipe bursts or a hot water system starts giving issues when you least expect them. When you are actually hit with one, going in search of plumbers might only add to your worries. It is many times difficult to get a regular plumber in Perris offer services at odd hours. Cali's Choice Plumbing & Restoration is open for service 24/7 and serves residential properties across Perris. We are just one phone call away.
Don't take chances with your plumbing, call the experts!
Refrain from taking momentary measures on your plumbing such as repairing your plumbing issues in a random manner or hiring an amateur plumber who is not a professional in emergency plumbing. If you are faced with a situation where prompt plumbing is required, Call Cali's Choice Plumbing & Restoration and we'll be there within a few minutes to save you from all of your plumbing troubles. Our plumber Perris is always on standby.
Our plumber and technician teams in Perris are accessible 24/7
Our services have a proven track record in residential plumbing repair and restoration. Our 24/7 availability enables our clients to get plumbing problems solved speedily. For scheduled installations and repairs, our residential clients profit from our availability in late evenings and weekends. Get on-time plumbing expert by calling us.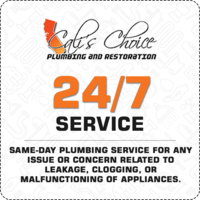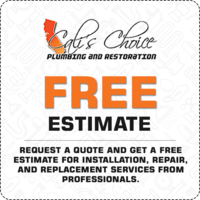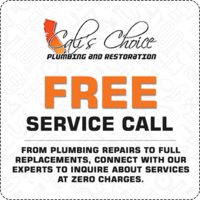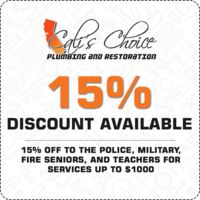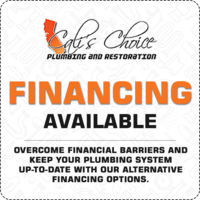 Cali's Choice emergency plumber in Perris CA
Cali's Choice Plumbing & Restoration is really proud of its short response times. Our technicians and plumber in Perris CA is highly trained and dedicated to arriving at your premises as quickly as possible. We handle a wide range of plumbing issues such as broken or burst pipes, water leaks, broken hot water heaters, leaky toilets and bathroom fixtures, slab leak detection and repair, and sewer and drain pipe repair.
Get help from professional plumber in Perris CA
Contact the professionals in emergency plumbing restoration to save you from all the plumbing worries in your residential properties in Perris, CA. We are confidential, discreet and highly focussed on delivering a top-quality repair and restoration service.
Cali's Choice
Emergency Plumber Perris
Water leaks :
Water leaks can be in any part of your house, inside or outside. The majority of the water leaks are left undiscovered as they cannot be easily seen, such as the concealed pipes in your walls. If you locate a leak in your house, contact Cali's Choice Plumbing & Restoration immediately and we'll be at your doorstep right away and repair all of the reported leaks.
Broken hot water heaters :
We have to be extra cautious when dealing with a broken water heater, as unlike other plumbing fixtures, a heater involves electricity. Repairing a broken or blown water heater requires certain training and expertise that a regular plumber in Perris does not possess. Cali's Choice Plumbing & Restoration has factory-trained technicians with expertise in water heater repair. They excel at accurate problem detection and repair solutions that gets your water heater problems solved within a minimum time.
Pipe damage :
Regardless of how good your plumbing is, a broken pipe is a problem almost every homeowner faces, and not just once. Pipe damage can be due to various reasons such as corrosion, low-quality materials of pipes, excessive exposure to the sun, clogging or seismic activities. The more time you let a broken pipe sit around in your property, the more money you will have to spend on repairs and as well as on water bills. Contact Cali's Choice Plumbing & Restoration for all kinds of pipe damage repairs.
Clogging of sewer lines :
When your sewer lines get clogged, it is important that the necessary actions are being taken to remove the clogging immediately. Call Cali's Choice Plumbing & Restoration and a team of sewage line cleaning and repair experts will be on their way to your place.
Why Cali's Choice stands out as a provider of
24 Hour Plumbing Services in Perris
Over decades of plumbing service, we have set the standards in plumbing through high class and comprehensive plumbing solutions. We are also known for our range of affordable plumbing services in California. Our plumber teams in Perris follow the same high standards while getting a job done and help you prevent wastage of your hard earned money on avoidable plumbing costs. Here are some other key points about Cali's Choice Plumbing & Restoration teams in Perris.
24/7 Rapid Response :
We have the resources that enable our plumber Perris to reach any place within a minimum time. Cali's Choice is always on standby, ready to respond to any event that requires prompt plumbing repair and restoration at any time.
Our Proven Success :
Cali's Choice is extremely proud of its track record. We have been serving residential clients for several decades, and our customers count on us whenever faced with any plumbing problems.
Courteous Customer Service :
We always treat our customers and most importantly their properties with the utmost respect. Cali's Choice delivers its services with one goal in mind- keep the customer satisfied at all times.