Are you looking for a plumber in Carmel Valley, CA who can fix your leaking water heater or your leaking pipe? Or is an unexpectedly high water bill for no apparent reason causing you a lot of stress? No matter what the issue is, you can rely on our trained and experienced plumbing professionals in Carmel Valley to sort out your plumbing issue as early as possible. Cali's Choice Plumbing & Restoration experts are available around the clock to fix any plumbing emergencies that might occur at unexpected hours. Now, if your HVAC system breaks down in the middle of the night or if your property gets flooded with water when you least expect it, our plumbing will reach your place within 60 minutes of your call. So, for any kind of plumbing emergency, call us now and breathe easy.
Cali's Choice Plumbing & Restoration provides Plumbing Services in Carmel Valley that are available 24X7 throughout the year. Our vehicles are always fully loaded with various kinds of repair equipment to enable our experts to carry out immediate repairs. We get the plumbing job done quickly and at affordable prices too. Our Carmel Valley Plumber can repair pipe leaks, toilets, damaged faucets, sewer lines, water heaters, and much more.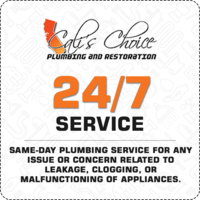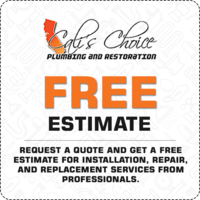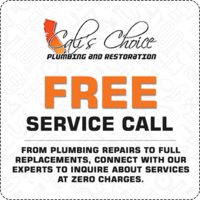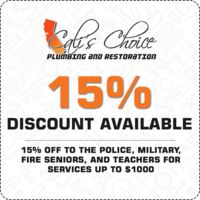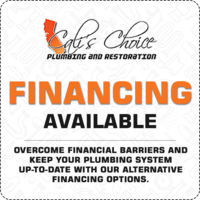 Our plumbing services in Carmel Valley include:
Slab Leak Repair : A leak in the pipelines beneath the concrete foundation of your house or office can damage the structure of your building. It can also warp your flooring or lead to mold formation under the carpets. Cali's Choice Plumbing & Restoration experts use sophisticated equipment to accurately locate slab leaks and repair them.
Drain Cleaning : Clogged drains can prove to be a nuisance for property owners. That is why we hire experts who are adept at repairing clogged drains using a flexible drain snake. We also use special chemicals to clean drains in the kitchen, toilet, shower or any other place.
Water Damage Repair : If your home is flooded with water due to any reason, we shall immediately come to your rescue. Our water damage restoration services are prompt and effective.
Our Skilled and Experienced
24 Hour Emergency Plumber Carmel Valley, CA
Provides a Range of Services
HVAC Installation and Repair : If you wish to install a new HVAC system or repair an existing one, our plumber in Carmel Valley is available at your service 24X7 for all 365 days of the year. We can handle HVAC systems of all varieties and brands.
Water Heater Services : If you wish to install a gas or electric water heater in your home or office, it is advisable to seek help from an experienced professional. Our experts are also capable of carrying out tankless water heater installation and repair. We provide regular maintenance services for your water heater to extend its lifespan and improve its efficiency.
Sewer Services : Cali's Choice Plumbing & Restoration provides complete video inspections of sewer lines. If the inspection reveals any damage to your sewer lines, we undertake trenchless sewer lining using non-destructive technology. We also use the latest snaking and hydro jetting techniques to remove sand, grease, debris, and other obstacles from your drains and sewer lines.
Repiping and Pipelining : If there is extensive damage to the pipelines in your property, we undertake minimally invasive repiping services. We re-route your pipelines or carry out cured-in-place pipe lining (CIPP) to avoid damaging your walls or flooring.
Other Services : Our services are not limited to those mentioned above. We also install water filtration systems, water softeners, and backflow preventers. You can also call our experts for bathroom and kitchen plumbing services.
Cali's Choice
Plumbing Services in Carmel Valley
is Just a Call Away
For decades, Cali's Choice Plumbing & Restoration has been serving its customers tirelessly regardless of the nature of their plumbing issues. Our dedicated services have made us one of the leading plumber in Carmel Valley, We hire select professionals who are bonded, insured, and experienced. Our experts are made to go through rigorous training before they are deemed fit for service. They are not only skilled and experienced but friendly too. You need not hesitate to ask them any questions related to the plumbing service.
Although our experts provide their valuable suggestions, you are empowered to make the final decision. We are available around the clock if you need help during any kind of plumbing emergency including flood and fire damage. We bill insurance directly with your insurance company to make the restoration and repair process hassle-free. Our services are highly affordable and contain no hidden charges. Our transparency sets us apart from other plumbing in Carmel Valley. We also offer special discount packages for seniors, teachers, military, police, and fire service employees. So, the next time you require any kind of plumbing assistance, do not hesitate to give us a call for a free estimate from our experts.