Emergency Plumbing Assistance in Buena Park
Is it a leaky pipe that runs underneath your foundation or leaks from a kitchen appliance that you just discovered or are your sewer lines backing up? You need an emergency Plumbing Service Buena Park that you can count on. Cali's Choice Plumbing & Restoration in Buena Park is here for you 24/7. Even a leak that might start small can lead to more serious damages. That is why your emergency plumber have the resources to arrive at your scene and fix that leak right away.
Don't Take Chances with Your Plumbing, Call the experts!
Never try to fix your plumbing issues on your own! This can pose various safety risks since you are not a trained professional in plumbing. It could also lead to worsen the existing damage and end up in higher renovation costs. What you could do is contact us immediately and we will talk you through the phone, as to what needs to be done until we get to your premises.
Cali's Choice team of plumbers in Buena Park
Cali's Choice plumber and technicians have advanced and extensive training in emergency plumbing Services. Our teams are certified professionals in the industry. They are furnished with the latest tools and technology that can handle any sort of emergency plumbing situations in the most efficient and fast way.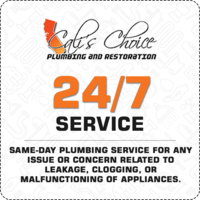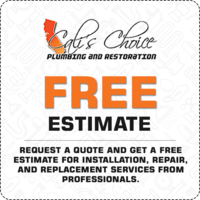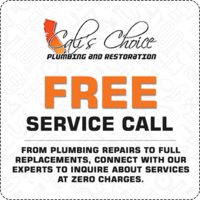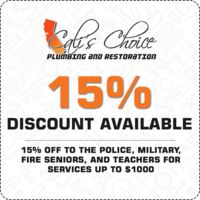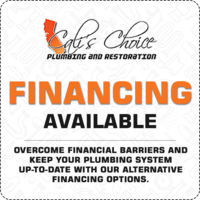 Cali's Choice emergency plumber in Buena Park
Our plumber in Buena Park can handle everything from a small crack in a pipe to a backing up of an entire sewer line. None of these events can sometimes be left unattended until the usual business hours. That is why we offer our emergency plumbing services 24 hours around the clock to all the places across Buena Park. Plumbing issue at your business property? We got that covered too – we are also experts in residential plumbing solutions.
Contact the specialist emergency plumber in Buena Park, CA
Do not hesitate! Call Cali's Choice Plumbing & Restoration in Buena Park, CA. All of our services are in-line with industry standards. You can count on our well-trained and experienced plumber in Buena Park to save you from all of your plumbing troubles, at your residential premises.
Cali's Choice
24 Hour Plumber Buena Park CA
Burst or broken pipes: Don't let a burst pipe to cause extensive damage to your house or business premises. Call a licensed plumber in Buena Park to attend immediately to your broken or burst pipe. Even small cracks or a slightly dripping faucet could be the cause of various additional costs if not fixed on time. Contact us and we'll fix it right away, and help prevent situations calling for water damage restorations.
Leaky toilets: Many times, property owners are unaware of the fact that they have a leaky toilet until it advances to a greater mess. When a bathroom or a toilet leak is left unattended for a long time, moisture and increasing wet areas can become mold growth triggers – which means property owners will have to spend on mold remediation as well. Call Cali's Choice Plumbing & Restoration for all your bathroom and toilet plumbing needs and minime troubles.
Broken water heaters: Many times, people ignore minor water heater issues until it is completely broken, and that maybe the time when you were looking forward to have a shower in a cozy evening. Call us when your water heater indicates even a minor issue and let us inspect it and prevent bigger issues.
Clogged sewer lines: A long left clogged sewer line becomes a burst sewer line with time. Contact Cali's Choice Plumbing & Restoration on the first sign of a drain blockage and we might help avoid a potential pipe burst scenario! We use specially designed cameras that snake through your sewer line to identify the areas of clogging. It helps us decide the right drain or sewer pipe cleaning approach and get the problem solved most efficiently.
Why Cali's Choice Plumbing & Restoration offers the best
Plumbing Services Buena Park CA
First on Site: Our teams are always ready to respond whenever you are in need of our services. We are capable of arriving at any place across Buena Park within minutes to attend to an emergency service call. Cali's Choice Plumbing & Restoration is just a few clicks away when you need any immediate plumbing services in Buena Park.
Certified, experienced and professional technicians: We are very proud of our teams and their exceptional track records. Our teams comprise licensed plumber Buena Park with specialized training and experience for different complex and tricky jobs from slab repiping or rerouting to whole house plumbing installations services.
Honest and Fair Pricing: We are always transparent and straightforward in our communication so that you know you are getting a fair price for the services that we offer. We also excel at providing affordable pricing options for plumbing system replacements or installations in additions to repairs.