Cali's Choice is offering its customers the services of the most skilled and experienced plumber Temecula. We are dedicated to bringing you outstanding plumbing services and a class of experience in plumbing installations that delights you.
We have licensed plumber in Temecula and HVAC technicians who are provided with the latest in inspection and repair equipment and facilities. Our philosophy has always been to provide our customers 100% satisfaction, and we deliver our best on each and every plumbing job.
We are insured and certified. Getting the services of a good Temecula Plumber with required expertise make the difference between peace of mind and frequent plumbing troubles. Sometimes a small problem or a minor error during installation, repair or appliance replacement result in recurring issues, and you end up paying frequently on repairs. Call Cali's Choice when you need the services of a plumber Temecula, and be assured of superior quality plumbing services.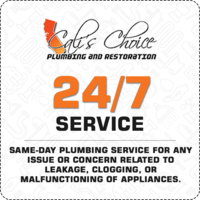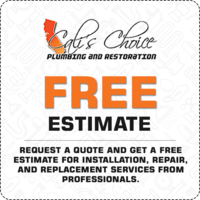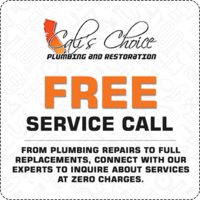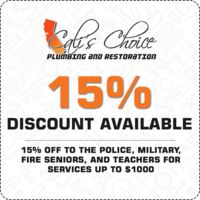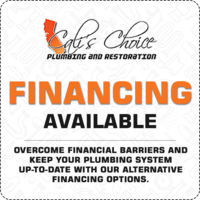 Cali's Choice offer a wide range of services. These include:
Appliance installation and replacement:
We offer installation and replacement services for plumbing related appliances in your kitchen, bathroom and toilet. We repair, install or help replace water heaters, both traditional and tankless ones, sinks, faucets, shower systems, bathtubs, etc. Whenever you need a kitchen or bathroom plumbing system or related appliance installed, schedule an appointment with a Cali's Choice plumber Temecula. We are open 24/7.
Drain and sewer pipe cleaning and repiping :
Drain clogs could be extremely unhealthy and sickening, but they need to be treated with great efficiency to ensure the health and safety of people staying in your property. We offer drain pipe inspection and complete cleaning services using sophisticated equipment and outstanding resources to ensure flawless plumbing jobs. If your drain pipes are damaged and you need repiping, we have the licensed repiping experts to deliver guaranteed repiping services.
Pipe replacement, repair and installation :
Any kind of pipe in your home – be it water supply pipes, gas pipes or slab pipes, our plumber can efficiently repair or replace them, as required. We always use and recommend high quality, certified pipes, fixtures and components that come in a range of pricing options and warranties.
We deliver residential plumbing services in Temecula. The delicacy and efficiency that we use in each job is unparalleled. For remodeling your residential space interiors, if you are in need of plumber for installations and repair, contact Cali's Choice.
Call Cali's Choice when you need
24 Hour Emergency Plumber Temecula, CA
If you are in need of urgent plumbing services in Temecula, call our emergency plumber service facility. We guarantee fast response. Our expert plumbers will take of your troubles and provide you speedy and flawless repair work. Since we provide 24 hour service, you do not have to worry about delays or wait for hours. You get immediate help anytime you call for our emergency plumber Temecula.
Also, our services are very affordable and any repair work done by us are backed up with a guarantee. Any part of fixture replacement solution is also supported by warranty-backed certified products.
Our plumbers are friendly and listen to your concerns attentively. Their services will come with valuable advice, whenever you require them. Our plumber and technicians show utmost dedication to work.
Plumbing repairs, most times, create a mess, but we strive to reduce it and are committed to following practices of maintaining good hygiene and health and safety. We leave behind no mess.
Call Cali's Choice emergency plumbing service team in Temecula to get fast repair and restoration solutions for residential property plumbing needs.
24 Hour Plumbing Services in Temecula, CA
from Cali's Choice
For Temecula residents, plumbing issues need never be a worry, with our team of plumber and technicians at your service 24/7.
For remodeling your kitchen or bathroom or the toilets and washrooms of your residential property, you can schedule a consultation or installation at any time that best suits you, including weekends and public holidays. For any repair and maintenance work that you want done at your convenience, it is best to call Cali's Choice plumber Temecula.
Contact our 24 hour express plumbing services team and find out how best we can serve you.