Your Trusted Plumbers in Hemet, CA. Call Cali's Choice Plumbing & Restoration!
Plumbing problems within properties occur due to numerous reasons. The best way to resolve any plumbing issue is by handing it over to a well experienced professional. If you are a property owner in Hemet and looking for a plumber for your property, trust none other than Cali's Choice Plumbing & Restoration. Our plumber in Hemet will do a full inspection of your home or business place and determine what needs to be done to resolve all your plumbing issues. With us, you are assured that your property is in good hands.
Cali's Choice Plumbing & Restoration – Fast and Efficient Plumbing Solutions
Are you a residential property owner in Hemet and looking for a professional plumber for your plumbing needs? Then look no further than our highly skilled plumbers in Hemet CA. We guarantee exceptional plumbing repair and installation services that come second to none. Our teams have a strong background in plumbing services delivery in California for residential properties. We are here for all your plumbing needs.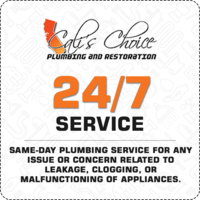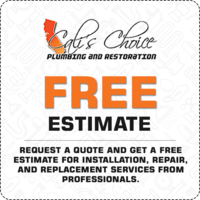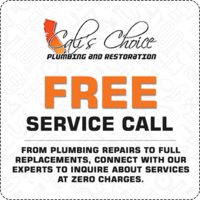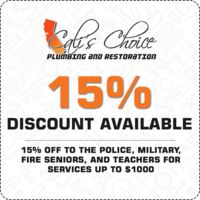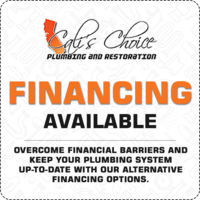 Cali's Choice Plumbers in Hemet CA
Our Hemet Plumber are capable of handling all sorts of plumbing issues from repairing a dripping faucet to repiping an entire residential property. We also offer our plumbing services 24/7 throughout. If you are faced with a plumbing emergency during off-business hours, you can still call us. With one phone call, a team of expert plumber in Hemet will be on their way to assess and fix all your plumbing problems.
Contact the Specialist Plumbers in Hemet, CA
Do not waste time searching when you have Cali's Choice Plumbing & Restoration in Hemet. All of our services follow industry standards. You can rely on our well-trained and experienced plumber in Hemet to offer complete and durable solutions for your plumbing troubles, at your residential premises. We can guarantee 100% customer satisfaction, superior service quality, reasonable prices, and technicians who will treat you like family if you decide to go with us.
For Efficient and On-time Plumbing Services, Contact Cali's Choice Plumbing & Restoration
24 Hour Emergency Plumbers in Hemet CA
Kitchen, Bathroom and Toilet Plumbing – Do you have leaky faucets that waste water and your money? Contact Cali's Choice Plumbing & Restoration and get all your leaky or broken plumbing fixed by experts. Our plumber in Hemet repair all plumbing fixtures including faucets, sinks, toilets, bidets, bathtubs and showers. If you are looking forward to remodeling your bathroom or replacing any of the plumbing fixtures in your property, we got it covered too. We offer installation services for all kinds of kitchen, bathroom and toilet plumbing systems.
Water Heater Services – Got a malfunctioning water heater at your home? Contact us to get it fixed and resume enjoying your cozy showers. We repair and service all brands and types of water heaters. Need a new water heater? We provide installation services for a wide range of water heaters. From tanked, tankless, solar to hybrid water heaters, we install them all.
Sewer and Drain Cleaning Services – Unlike other plumbing services, sewer and drain cleaning jobs require a specific skill set with relevant expertise and training. This is due to the various types of contaminants that might be flowing through your drain pipes. We handle everything from cleaning clogged drains to sewage backups while ensuring the restoration is done in a safe manner.
Leak Detection and Repair – Having leaky plumbing in your property can cause you to spend hundreds of dollars on unused and wasted water. Contact us and stop wasting your money as well as your water. We'll do a full inspection of your home or business place and identify all leaky areas and treat them right. Our plumbers in Hemet will not leave until we have covered every single leak.
For benefiting from quality plumbing experiences, Contact Cali's Choice
24 Hour Emergency Plumbing Service in Hemet, CA
We have always endeavored to raise the bar in plumbing service standards through high class and effective plumbing solutions. Our customers have highly appreciated our 24 hour rapid response and the range of affordable plumbing services in Hemet, CA.
Guaranteed Services – All our services come with a guarantee. We deliver 100% reliable, efficient and error-free solutions for any size or scope of plumbing need, and take care that any associated needs are also satisfied.
Excellent Track Record – We are extremely proud of our track record. We have been serving residential clients in California for several decades, and we have a huge base of customers who consider us their go-to plumber in Hemet for any need.
Courteous Customer Service – We treat our customers and their properties with the utmost respect. Our plumbers in Hemet CA delivers its services with this objective in mind- keep the customer delighted with the quality of our services, from the moment they reach us over the phone, email or website, and until we resolve all the plumbing issues to their satisfaction.