Emergency Plumbing Crisis in Fullerton? Call Cali's Choice Plumbing & Restoration.
It can be in the middle of the night, a public holiday or a Sunday morning. Plumbing emergencies do not occur by informing you beforehand. Unlike other restoration jobs, you cannot schedule a prior service for plumbing emergencies. We respond immediately to all emergency plumbing requirements in the Fullerton area and restores your plumbing back to normal quickly.
What Should I Do
in a Plumbing Emergency?
As soon as you have located a leak, a burst pipe or some other plumbing issue that needs prompt repairing or restoration, it is always better to contact a reputed emergency Fullerton Plumber that can arrive at your site immediately and fix the issue right away. You could, however, do something until the plumbers arrive that doesn't pose any safety risks and to temporarily stop the leak, like closing the valves that are feeding water into the problematic area.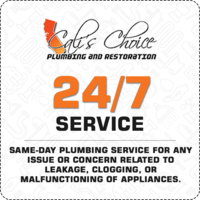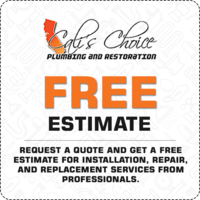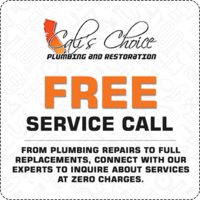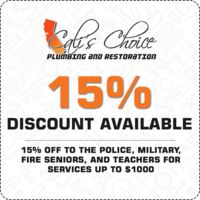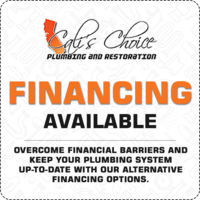 Fast and Efficient Emergency Plumbing Solutions by Cali's Choice Plumbing & Restoration
We offer all of our emergency plumbing services to all the areas of Fullerton 24/7. We provide extensive training on emergency plumbing services to its plumber and other technicians in Fullerton, and have state-of-the-art equipment that can handle all types of emergency plumbing needs.
Cali's Choice Provide 24 Hour Plumbing Services in Fullerton
Our plumber in Fullerton is professionals in emergency plumbing, who has gone through advanced training. They also have years of experience serving residential clients when their life is in a crisis from plumbing troubles. We take care of all types of plumbing issues from as small as a pipe leak to even an overflowing or clogged sewer line.
Contact the Professional Emergency Plumbers in Fullerton
Do not let a plumbing issue in your property sit around until it turns into a crisis. Call the professional plumber Fullerton and get all plumbing issues in your home or business property resolved right away. Our teams are always on standby ready to respond, day or night.
Cali's Choice Plumbing & Restoration
24 Hour Emergency Plumber in Fullerton, CA
Broken and leaking pipes – Broken or leaking pipes can be outside or inside your house. It can be the sink pipe in your kitchen, leaks from your toilet bowl or a broken garden pipe. Either way, it will indirectly cause you to spend more on your water bills without your knowledge and even increase the chance of mold growth. Contact Cali's Choice Plumbing & Restoration to take care of all the leaking and broken plumbing in your property.
Blown water heaters – This is a situation where a great amount of water will be spilled out onto the floor and it will really be difficult to stop the water from getting all over the place. Even after you call us for professional emergency plumbing repair, you should turn off the valve feeding water into the water heater to temporarily stop the leak and avoid the place from getting all wet.
Clogged pipes – If your drain pipes make funny sounds or if it inefficiently drains and you find unpleasant odors are coming from your drain, then there's a higher chance that your sewer lines are clogged and things are not flowing through smoothly. A clogged pipe should be inspected immediately and the needful should be done to remove the clogging. Otherwise, it can turn into a worse situation, where the sewer line can be blown or burst, making things much more difficult to recover.
Slab leaks – Unexplained increase in your water bills, cracks in your walls and ceilings and the sound of water running through while all your fixtures are turned off are signs that your house is hit with a slab leak. Now you might think that this doesn't require emergency plumbing, but if it is left unaddressed it can seriously damage the structural integrity of the building. Also, with the increasing water rates throughout Fullerton, you will spend a lot on water bills for unused and wasted water.
Why Cali's Choice as your
Emergency Plumber Fullerton, CA
24/7 Availability – Our teams can quickly arrive at any site in the Fullerton area. We offer our emergency plumbing services 24/7 and our teams are always on standby. It can be in the middle of the night, a weekend or a public holiday, Cali's Choice Plumbing & Restoration is here for you no matter what the day or at what time it is that you need us.
Great Technicians – Our plumber in Fullerton have gone through professional and extensive training in this line of work, and have experience in serving many residential clients over the years.
Excellent Customer Service – Our No.1 priority at Cali's Choice Plumbing & Restoration has been to keep our customers satisfied – from the moment that they have reached us over the phone until we make their property free of all reported plumbing issues.