At Cali's Choice Plumbing & Restoration, we know just how costly an unnoticed water leak in your home can become, leading to both property damage and higher utility bills. But our knowledge doesn't stop there. Our team of water leak detection experts prides itself on conserving as much H2O as possible in an effort to not only help homeowners in Anaheim, California but to also contribute to protecting the environment.
If you're searching for water leak detection services Anaheim area, consider Cali's Choice Plumbing & Restoration.
What Are the Causes of Water Leaks?
Water leaks can occur in your home anywhere at anytime. A sudden change in the weather can add pressure to your pipes, while old ones can also degrade over time. In fact, older pipes are one of the leading causes of water leaks because they're made with substandard materials compared to today's superior material.
When you consider that just a single dripping leak can consume 15 gallons of water per day, which adds up to about 450 gallons per month, it's important to take care of leaks immediately to avoid putting your property, and wallet, at risk.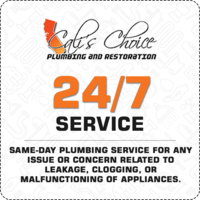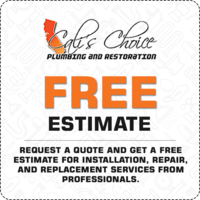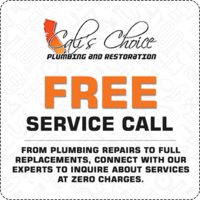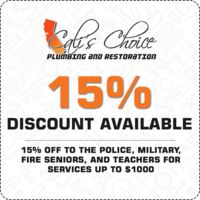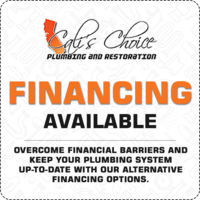 Signs and Symptoms of a Water Leak
It's likely the first thing you'll notice if you have an undetected leak is a higher than normal water bill. Additionally, you might hear water flow through your pipes when you don't have any of the water taps on, or your water heater might operate endlessly. Here are some other signs and symptoms of a water leak in your Anaheim Hills home.
Warm or hot spots on the floor signals a busted hot water line
Wet spots or moisture located around the stucco
Reduced water pressure that results in a trickle instead of a steady stream
Unexplained puddles on your front lawn or in your yard
What to Do if You Suspect or Find a Water Leak?
If you suspect or find a water leak in your home or business, it's important to locate the source of it right away. All of our Anaheim plumbers are trained to locate the most difficult of water leaks without causing unnecessary damage. We do so by using specialized leak detectors to test your walls and floors to determine the exact nature of the leak. Afterward, we'll create a plan of action to fix the problem.
How Does Water Leak Detection Work?
Water leak detection requires the steady hand of a professional. To avoid further damage to your property, we strongly advise against trying to fix it yourself.
Cali's Choice Plumbing & Restoration uses revolutionary water leak detection methods to pinpoint the exact location and cause of the problem. The technology senses the slightest discrepancies or leaks so that our repair is comprehensive because even the smallest of water leaks can lead to more property damage and higher bills.
For more information about water leak detection, or if you're interested in any of our other plumbing services, contact Cali's Choice Plumbing & Restoration today by calling. We're available 24/7 to the residents of Anaheim Hills, California, and the surrounding communities. When you have a leak, contact us for a meet.