Exemplary Services for
Emergency Water Damage Repair Costa Mesa
Water damage refers to damage caused due to contact of water such as rotting of wood or rusting of steel or delamination of materials. It could happen in any household where indoor flooding has occurred or when water has stayed long enough to penetrate deeper into a material, whether related to your furniture, your carpet or your wall panels or roofing elements. Water Damage can happen for various reasons. It could be caused by a broken dishwasher hose, clogged toilets, washing machine overflow, etc.
Cali's Choice provide excellent and professional plumbers for water damage repair Costa Mesa. We are a family owned company in California dedicated to bringing you the finest experience in plumbing services. water damage restoration Costa Mesa ca needs utmost care and delicacy, and should be done by professionals experienced in optimized restoration. Our plumbers are extremely careful about every job and they have long years of experience. We are a licensed, certified, bonded and insured team of water damage restoration Costa Mesa.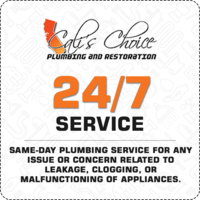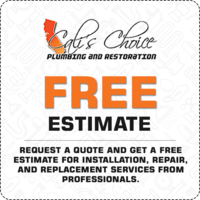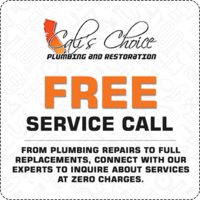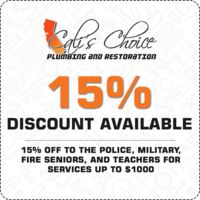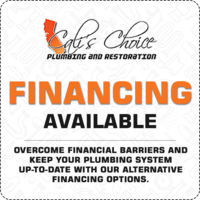 Restoration or repair of water damage starts with an assessment – evaluating the situation, the materials affected and the loss is calculated. Following this, a strategic action plan is put in place for maximum restoration and to quickly stop progressive damage. Cali's Choice has the best among equipment for inspection, water leak detection and emergency water damage repair in Costa Mesa. Our work remains flawless for every process from water extraction, drying, dehumidification, odor removal, sanitization, content cleanup and restoration and structural repairs.
Cali's Choice will give you a free consultation and estimation, letting you know the costs upfront. We offer affordable water damage restoration pricing options taking into consideration your financial concerns. Call us whenever you are in need of water damage repair Costa Mesa.
Call Cali's Choice for
Water Damage Restoration Costa Mesa
Water leaks are a fairly common occurrence with many cities reporting thousands of cases of household water leaks every year. Errors in installation of pipes or plumbing-based products are one of the causes of water leaks. Misalignment of pipes during the construction of a property, ageing of pipes and piping fixtures, these are various other reasons causing water leaks and related water damage.
Whenever you suspect a water leak, it is advised to immediately contact certified leak detection, inspection and repair professionals before the situation becomes worse and increases the scope of overall damage and repairs. Cali's Choice has a 24 hour emergency water leak damage repair services team in Costa Mesa. We will quickly stop the water from spreading, verify the root cause of leak and offer complete solutions from repairing the plumbing-based product or appliance to cleanup and repair of elements like carpets, rugs or other belongings.
If the leak was caused due to a kitchen drain or sewage pipe clogging or a hot water line or slab pipe issue, we also have the licensed experts to inspect pipes and clear away the blockages using state-of-the-art equipment. Rely on us for excellent solutions for water damage repair in Costa Mesa.
Our 24/7
Emergency Water Damage Restoration Costa Mesa
Whether day or night, when an emergency arises and you call Cali's Choice, be assured of instant help. Our emergency Costa Mesa plumber team remains available all the time. We give efficient advice on the phone to help you reduce the possibilities of progressive damage until we can arrive at your property. We have a record of arriving in minutes, and delivering fast repair solutions.