Cali's Choice Water Leak Damage
Repair Services in California
Whether in the home or in the office, water damage is one of the worst problems one can encounter. If the problem is not solved right away, it can lead to some even more hazardous problems like electrical hazards, creation of molds and damage of furnishing and structural elements of the property.
Water damage can be caused by virtually many things including but not limited to broken faucets, burst pipes, leaking roofs, a laundry equipment leak, etc. Mitigation is necessary as soon as the problem arises as well as fast services.
Cali's Choice provides efficient and effective water damage repair Fountain Valley. Our plumbers are licensed, insured and experienced. We use the most sophisticated and updated equipment to solve the water damage crisis. Our services include: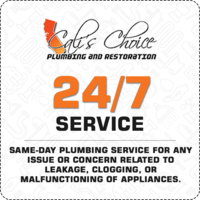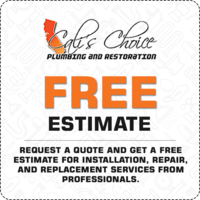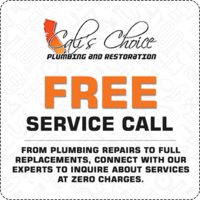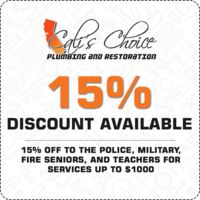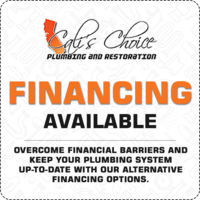 Water Extraction and Drying Out:

We have sophisticated water extraction services. If the water is not removed from the property as soon as possible the damage gets worse. We use some of the best equipment available for water extraction. Also our plumbers are expert at drying up property after floods and such disasters.

Dehumidification:

It is a necessary step for preventing various health hazards. Dehumidifiers are used for removing extreme humidity from water damaged areas.

Cleanup and Content Restoration:

This covers not only the spaces in your property affected by water damage but also affected belongings such as furniture, carpets, drapes, wall elements, etc. We follow all required industry standards in cleanup and restoration.

Decontamination and Sanitization:

If your house or commercial space is affected by water damage, chances are you might need decontamination services, especially if it involves drain and sewer water. We provide decontamination services too. Contact Cali's Choice Plumbing & Restoration for water leak damage repair services in Fountain Valley, California.
Call Us for
Water Damage Restoration Fountain Valley
Cali's Choice is available everyday of the week and 24 hours a day. Our response time window is very narrow. Within an hour, and many times, in less than that, we reach the customer's house.
Cali's Choice water damage repair team works flawlessly and effectively. Our inspection and assessment team will quickly detect the cause of the leak to render accurate solutions. Problems such as leaky roofs or ceilings need instant repair or else it might become hazardous for you and the family. Call Cali's Choice as soon as you notice any problem.
We are also experts in repairing slab leaks, burst pipes, ceiling plumbing leak, sewage backflow and leaks, etc. If leak repair involves speedy repair of pipes, we have the experts to deliver timely solutions. This includes repiping and restoration of wall, ceiling and affected areas damaged by the burst pipe.
24/7 Emergency Water Damage Repair in Fountain Valley
Cali's Choice is dedicated to giving the best experience. We work very hard to maintain our brand value and integrity.
You will get instant phone assistance when you make an emergency service request.
You get Fountain Valley plumbers at your place within minutes, and not hours.
We perform quick inspections to detect the cause of the leak and offer instant assistance with water extraction and damage mitigation.
We offer a free estimation of costs, upfront.