From slab leak, water damage, flood damage to bathroom and kitchen appliances' repair or installation, Cali's Choice cover all sorts of problems. We have the most experienced and well-managed teams of plumbers in Los Angeles. In Cali's Choice, there is no place for obsolete management tactics and slow output. Our plumbers are very much capable of making optimal decisions on their own. Although, most teams carry an expert consultant with them to advise them on certain issues. It does not matter how complex or easy the problem may seem; we inspect and devise solutions for all of them.
We are the one-stop solution center for all of your plumbing needs. Be it something as simple as removing a clog in your drainage or an entire restoration for the flood damage – our experts can do it all. We have general and specialized teams to focus on issues like molds, dehumidification, sanitization, reconstruction, retrofitting, etc. Despite offering exclusive services, most of them are very affordable. If you are looking for good yet cheap plumbers in Los Angeles, we are your answers.
Cali's Choice covers both commercial and residential properties for plumbing, restoration, and HVAC solutions. No matter where you reside in Los Angeles, we can arrive at your doorstep any time that is convenient to you. Along with that, you never have to worry about product procurement while working with us. We sell high-quality certified products of all brands, types, and specifications. They will be backed with long-term warranties that are easy to avail of with no complications at all. All of our services are guarantee backed too. Whichever service you choose, the end result is bound to be flawless.
You can also rely on us for plumbing repair and replacement service in Los Angeles. We can replace any of the appliances or plumbing equipment and even the entire plumbing system within a few hours or mere days.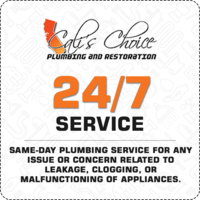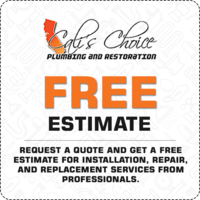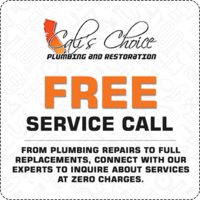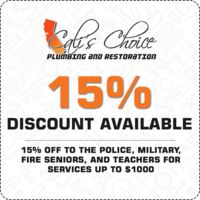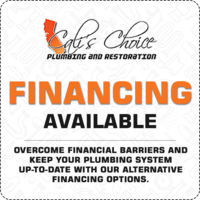 Are you looking for
Emergency Plumber in Los Angeles?
A well-groomed and certified emergency plumber in Los Angeles is only a call away. All you have to do is give us a call, and an appropriate team of experienced plumbers will be at your home by no time. We are absolutely dedicated to providing the most customer-oriented services possible. The Cali's Choice 24-hour plumbers in Los Angeles are available throughout the week, including public holidays. However, you can also schedule a meeting by calling the same number. Disasters can happen anytime and anywhere, and therefore, we stay ready all the time.
Cali's Choice provides upfront cost estimation and adequate consultancy as soon as they arrive at the scene. Our plumbers will properly assess the situation using the latest tools and technology and come up with the best solutions. However, the solutions range from the most affordable ones in the market to the integration of top-shelf exclusive stuff. The wide variety and range of services make us one of the most approachable plumbing companies in Los Angeles.
Cali's Choice is also known for its hefty discounts on certain services and products. We have the best alternative financing structure and flexible payment options in the state.
Hire Cali's Choice for the prompt, reliable, and customer-oriented approach. We will always put your needs and demands first. The plumbers will work day and night if needed to complete the job within the estimated time and finish the project according to the laid-out plans. We have an excellent history as a top-class plumbing service provider in California.
No matter what your problem is – you will have a proper solution at Calischoice. We have created a powerful management structure that is both proactive and flexible. It will integrate all of your plans into an easily divisible work breakdown structure and work to ensure flawless completion.