We provide a comprehensive slab leak repair in Mission Viejo. Leak detection, repiping, re-routing, structural repair caused by a slab leak, slab pipe replacements, and other services are available with us. Because our plumbers are certified, insured, and background-checked, we can provide quick and easy slab leak repair in Mission Viejo. Along with slab leak repair, we offer maintenance services. Cali's Choice Plumbing & Restoration offers a wide range of specialized and general plumbing services throughout California. For over 30 years, we have served countless California. We have built a very loyal customer base over the last 30 years.
A slab leak can occur because of a damaged or corroded pipe. In addition to wasting a valuable resource, a slab leak detection in Mission Viejo at your home or business at  can cause severe property damage if left unrepaired. The water can weaken the foundation and compromise the structural stability of your property. To minimize the damage, it is important that you locate and repair the slab leak as quickly as possible. Due to the serious nature of this problem, we are available 24 hours a day, seven days a week, to provide you with highly experienced and trained slab leak repair services in Mission Viejo.
There are several common telltale signs of a slab leak. One early sign is having a hike in the water bill than normal. You may also notice a spot on your floor that is warmer than the surrounding area. Another potential red flag is the unexplained sound of running water even when all your taps are turned off. A hot water leak may cause your gas or electric bill to increase because the water heater runs more often than usual. You may also notice that your walls are developing cracks because the foundation is shifting. The excess moisture from the slab leak can also foster the growth of mold and mildew beneath your carpets. We find the exact source of the leak and give repair solutions that meet your budget and requirements best with the latest technologies and equipment.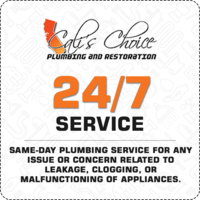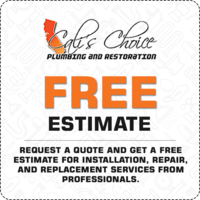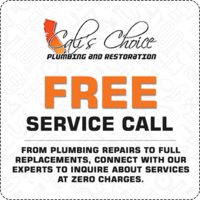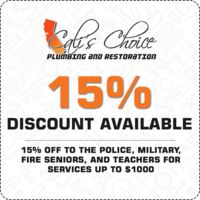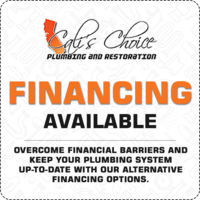 100% Flawless Slab Leak Repair Services
Comes At Affordable Prices
Every day of the week, including public holidays, we have highly trained plumbers accessible for every type of slab repair in Mission Viejo, 24/7. Our scope of services is vast, and it includes residential slab leak repairs. An Cali's Choice plumber will be at your house within the very hour of your call. We also offer free plumbing consultancy and estimation along with our slab leak services. After our consultation, you will have a clear idea of what you need. For all the slab leak services in Mission Viejo, Cali's Choice Plumbing & Restoration has a very nominal range.
You must seek immediate assistance from a slab leak. An active slab leak will only increase the amount of damage and expense of repairs over time. Cali's Choice Plumbing & Restoration can check your plumbing, determine whether it has developed a leak, and recommend the most appropriate course of action. Our company specializes in locating and repairing slab leaks. In many cases, we can work directly with your insurance company.
Our selection can also assist with property inspection and maintenance as methods of preventing the crisis from occurring in the first place. With our assistance, slab leak repair can be swift and simple.
Our slab leak repair teams have the resources to offer you complete solutions from repiping, rerouting to complete restoration, reconstruction, and renovation. The products used in slab leak restoration will be covered by a warranty. As a result, you can be reasonably certain of the price you will pay because you will be insured for an extended period.
You can always rely on our superior slab leak service delivery because all of our plumbers have extensive experience and adequate certification. They are dependable not only because of their flawless work but also because of their time management and dedication.