Slabs are common to many Californian buildings. Leaks occurring in the water supply or sewer pipes placed beneath the slabs have also become a common issue. People usually become aware of slab pipe leaks when they find wet floors or walls. A wet floor is unhygienic and instantly detestful. It is frowned upon by guests and hated by the family. In the workplace, it demotivates the employees and the customers. But wet floors could just be one of the problems caused by slab water leaks. If the leak is extensive, there are risks to the structural integrity of the foundation and floors of the property. One way to avoid such situations is to get a expert in slab leak detection Riverside conduct inspections at fixed intervals.
Cali's Choice offers the services of slab leak detection Riverside experts. We have an experienced team, who are furnished with high tech and the latest in leak detection equipment. Our team's experience and competency is unquestionable, as proved by their strong track records. We help you not only detect leaks accurately, but we also offer solutions to discover slab pipe conditions and leak possibilities.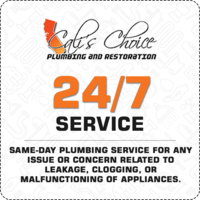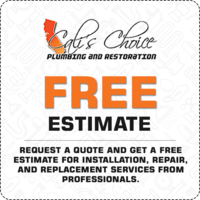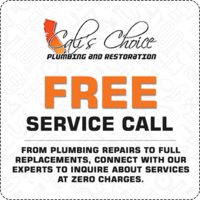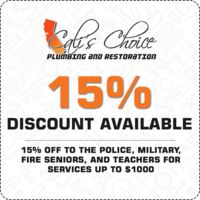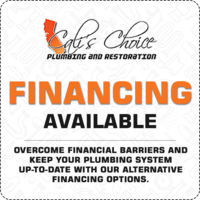 A leak can be small or big. Even minor leaks demand attention and fast repairs. After all, a little problem today can be a bigger problem tomorrow and cost you a lot. Schedule slab plumbing inspection by contacting Cali's Choice to get the most accurate slab leak detection Riverside results. We are open 24/7, allowing you to schedule an inspection whenever it is most convenient to you.
Some signs to look out for to detect chances of a slab leaks are higher water bills, when you are sure that the rise in water meters are unaccounted for. Try switching off all water supply sources for a while and check if your water meter is still running. Also if you find mold or wet areas on the floors or beneath your carpets, or warm spots on the floor, it could be because of slab pipe leaks.
Contact Cali's Choice plumbers for slab leak detection Riverside. We have a dedicated, licensed and highly skilled team, who will be able to accurately detect any water leak issues and offer the right repair solutions.
Accurate and Affordable – our
Slab Leak Detection Service Near Me
We offer a wide range of slab leak detection and repair services in Riverside.
Residential slab leak detection services : Residential slab leaks can occur in almost any homes, but calling the plumbers as soon as possible will avoid bigger messes adding up repair costs. Repair jobs could include spot repair, repiping or rerouting, Cali's Choice offers all these services.
Commercial slab leak detection services: Piping and pipe layout in commercial buildings could be more complex and intricate than in residential buildings. If a slab pipe bursts, the losses and repair costs could come to quite an amount. With Cali's Choice's commercial slab pipe leak detection services, a lot of such issues become avoidable.
Regular Maintenance: If your house or commercial property has aging pipes, we also offer scheduled slab pipe detection as part of maintenance. It is also recommended to get slab leak detection done when you move into an old property with outdated slab pipes.
Why our
Slab Leak Detection Riverside Experts
are the best
Cali's Choice values integrity and professionalism. We hire Riverside plumbers after thorough background checks. This includes checking their track records, references, experience, certifications, and whether they have any criminal or police records. Our plumbers are trained to improve customer experience. They listen to issues attentively. They conduct inspections efficiently, minimizing digging up work, and with a focus on health and hygiene needs. They also offer recommendations that help you control or monitor leak issues. We offer solutions at reasonable prices. You get free estimation; we let you know the costs involved beforehand.
Whether it is slab leak detection or repair, call us to get outstanding services.