`
What Is The Best Way To Fix A Slab Leak?
Are you facing slab leaks in your home or office? Are you able to chalk out the reasons behind this leakage? Do you know how to fix leakage? If no is your answer, we are here to tell you about what is a slab leak, the reasons causing a slab leak, ways to fix a slab leak. Slabs are concrete foundations on which your house is built. Below this slab goes the pipelines for various reasons such as gas lines, water pipelines, sewage pipes, etc.
With time, these pipes cause damage and leakage problems. Being located beneath the slab the water from these pipes comes out in the form of a slab leak. Hence, this leakage needs immediate treatment. Otherwise, the whole house can develop cracks and would become weak. So let's have a detailed discussion on the best ways to fix a slab leak.
A slab leak is a normal issue today, but it needs treatment and repair solutions urgently. As slabs form the foundation of our house, any leakage appearing in them causes many problems. The floor and walls of the house also began to develop cracks and deteriorate with increasing slab leaks. So, fixing a slab leak is essential. But before fixing or repairing, we need to find the causes that lead to a slab leak. So, below are the causes of a slab leak.
Various Causes For Slab Leak
The copper pipes used for pipelines are the main cause of leakage. With time, corrosion of these pipes leads to damage. Hence, leakage appears from the slab. As these pipes are beneath your foundation, any damage or leak in them leads to leakage in the slab.
Increase in the water pressure – This leads the underground pipelines to break, and thus a leak appears on the slab.
The highly acidic water in your area can also be one of the reasons for pipe bursting. The break of the pipe adds to the slab leakage.
If there's any shifting in the ground due to the earthquake, the pipe gets pressurized and damaged. A damaged pipe leads to a slab leak.
Signals Of Slab Leak Problems:
Cracks appeared in the walls.
A lot of moisture gets accumulated on the walls of your house.
Soggy carpets, wet floors in some cases of flooring.
Strange odors coming from the floor.
Increase in electricity bill.
Water pressure is reduced.
Difficulty in opening doors and windows of a house.
If you observe the above-mentioned signs of slab leak at your home, you surely need to fix slab leaks at your residence. Let's discuss the various ways to fix a slab leakage.
Expert Ways To Fix Slab Leak Problems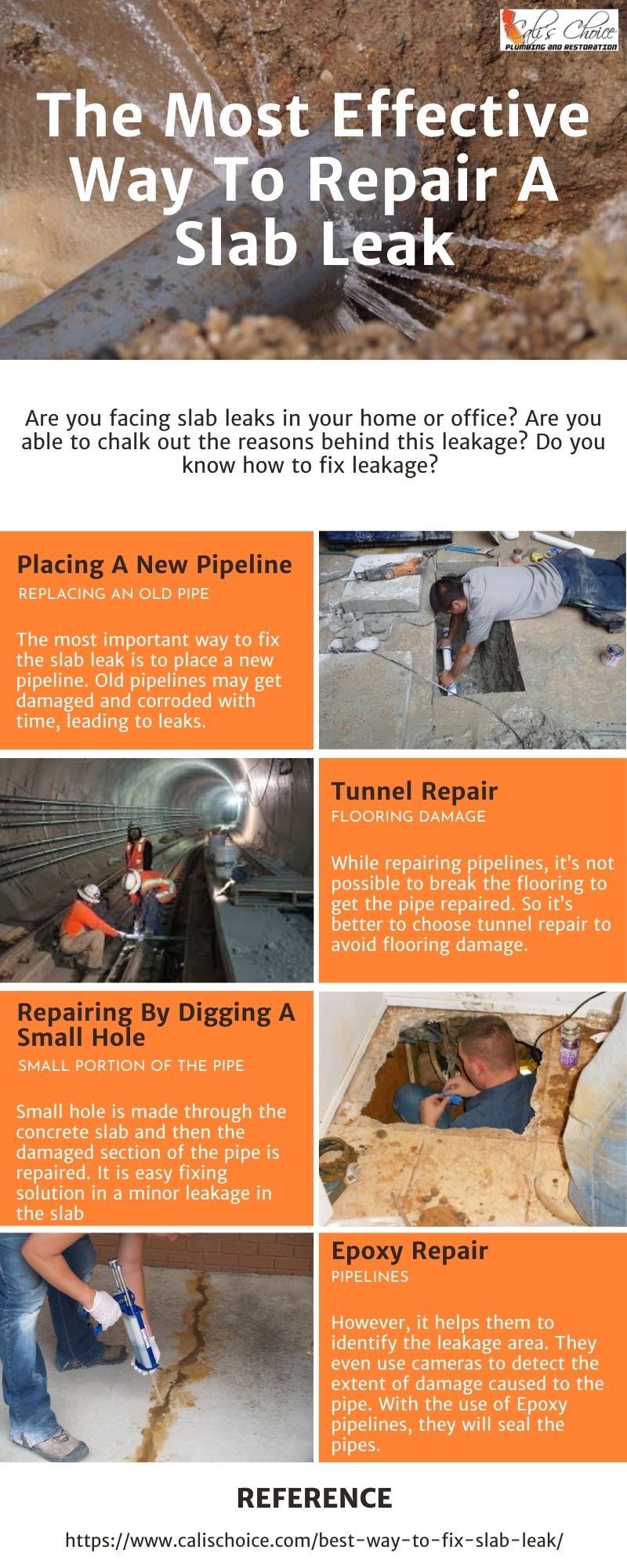 1. Placing A New Pipeline
The most important way to fix the slab leak is to place a new pipeline. Old pipelines may get damaged and corroded with time, leading to leaks. Replacing an old pipe would damage your floor and even would cost you more. It would be way easier to install new pipelines. Professionals will install new pipelines underneath the ground that surrounds your building. The ground near your foundation is easily approachable for accessing a new pipeline. The sooner you contact a repair service, the better it would be for your foundation of the home. If you are searching for slab leak repair services in Irvine, contact licensed technicians immediately to repair the leak in your house. Even you can get 24*7 service from them.
2. Tunnel Repair
Nowadays, house flooring is very expensive. While repairing pipelines, it's not possible to break the flooring to get the pipe repaired. So it's better to choose tunnel repair to avoid flooring damage.
In this process, the worker team will dig a working tunnel beneath your home, keeping in mind that the overall foundation doesn't get affected. They would do the repairing work from these tunnels and would return from these only. After making all the necessary changes and repairs needed, they would place the soil, which was removed.
Thus, you can fix the slab leak without any damage to the floor or your home. There are professional services that can easily repair slab leaks at your home. If you want services from slab leak repair experts in Irvine, book an appointment with professionals. They would treat your leak problem better.
3. Repairing By Digging A Small Hole
This process is beneficial if a small portion of the pipe is broken. In this process, a small hole is made through the concrete slab and then the damaged section of the pipe is repaired. This is an easy fixing solution in a minor leakage in the slab. In case of major leakage, it cannot prove a success as it requires major shifting in the flooring and tiles. But in small leaks, it is fruitful to fix without much damage.
4. Epoxy Repair
In this repair process, experts make small access holes to perform the slab leak repair services. It involves minor demolition to repair. However, it helps them to identify the leakage area. They even use cameras to detect the extent of damage caused to the pipe. With the use of Epoxy pipeliners, they will seal the pipes. If the holes are workable, the workers would clean the old pipeline and place the epoxy pipeline and join it and give it time to cure. This process takes a few hours of repairing. But in case of major damage in the pipelines, the team can apply a pipe splitting process. In this case, they insert new pipes in place of old pipes, which are higher than the existing ones.
Today many companies have been professionals in slab repair service. They have modern and advanced solutions and technology to fix a slab leak. Their expert team easily detects the place of leakage and then uses appropriate methods to solve them. If you search for slab leak detection and repair services in Irvine, look nowhere. Immediately Get in Touch with us without any hesitation.
Conclusion
Finally, to conclude, a slab leak is not an abnormal problem in today's life. But it's essential to fix it at an appropriate time. Else it can become a major issue. A slab leak can occur because of various reasons. Once you detect a slab leak at your home, you should immediately call experts for a repair. You already know the signs of a slab leak. So, you can find whether there is a slab leak at your premises or not. Also, you are well about the various ways to fix slab leaks.
Thus, when you suspect slab leaks, don't take any hassles. Call us, and you will free consultation and estimation from experts. We use advanced techniques and technology to detect and repair your leak problem. Moreover, you don't have to worry about your budget, as we offer slab repair services in Irvine at affordable rates. We know slab leak emergency can strike anytime, and delay can demolish your property. So we work 24*7 to help you with ideal slab leak repair solutions. Conquer your slab leak problems with the right solutions!