Slabs form a part of most houses in Riverside. Usually the water and sewer pipes are placed before the slabs are setup. That is why when a leak occurs in these underground pipes, it could go undetected for long until the floor or walls becomes wet. This also leads to mold growth, as often found, and an overall unhygienic environment in homes and offices.
Cali's Choice offers complete slab pipe repair and related solutions. We have certified plumbers for plumbing inspection to carry out slab leak detection, to efficiently repair the pipes or repipe them, and also attend to floor or wall damage repair and mold remediation.
We have a strong team of licensed and insured slab leak repair experts in Riverside, California, with the resources to immediately solve any extent of slab pipe problems.
You can connect with us for emergency assistance if the leak is bad enough to need urgent attention. Cali's Choice brings you the most wholesome experience you will ever need from plumbers. Our 24 hour service facilitates anytime solutions to slab leak Riverside requirements. We also provide free estimation, and therefore, it is easier to plan your cost ahead without any extra charge.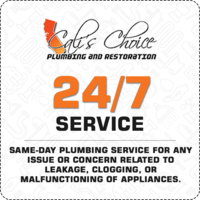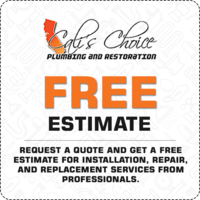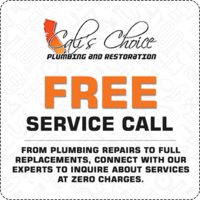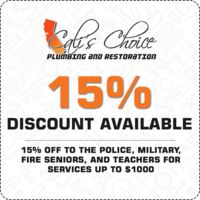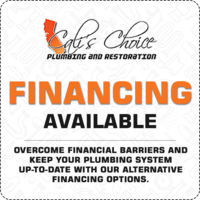 If a continued leak damages the slabs, repair costs add up to a bigger amount. Slab pipe leak issues are not as simple as water leak issues, as they are difficult to discover. You need expert plumber assistance to identify the exact locations of the leaks and pipe damage. We suggest to not try and fix the problem on your own, because any inefficiency triggers bigger problems for later. Our services come at a reasonable cost as well.  Also, we accept several insurance too. Call us in your time of need for Slab Leak Detection Riverside.
Low quality pipes – If the pipes are of very low quality, it will eventually leak pretty soon. It is important to know about pipe standards and related safety needs, and choose the right quality slab pipes, in case they need to be replaced. Cali's Choice has an expert team in Riverside, who offer quick, easy and 100% reliable slab leak repair solutions.
Corrosion – Corrosion can cause leaks as well. Cast iron and galvanized pipes all are subject to corrosion issues. Corrosion can also happen in other metals. It occurs mainly due to reactions within the pipes for salts in the water. Cali's Choice offers water softener solutions as well as repairs or replaces corroded pipes, as the situation calls for.
Inefficient construction – If the pipes were not laid out or installed in the correct manner, misalignment and other problems can progressively damage the slab pipes over time leading to an eventual pipe burst or leaks. Cali's Choice offers pipe rerouting solutions to address such issues.
When to connect with
Calischoice for Slab Leak Repair Services
Slab leak Riverside mostly depend on the condition and the place of your pipes. The earlier any slab leak is detected, the lesser the possibility of expensive repair needs.
Signs of slab leak : 
Unexplained Noises : The slight sound of running water somewhere, which cannot be explained could indicate a slab pipe leak.
Water bills getting higher : If you find a running water meter even when you have turned off all pipes and water supply systems, it could be a slab pipe leak causing the water meter to run unaccountably.
Warm spots in the floor : This could be a damaged hot water slab pipe or a leaking slab sewer pipe.
Cracks : Cracks and wetness on walls or on foundation is also a sign of a slab pipe leak.
Mold : Wetness or increased moisture on the floors are sometimes caused by slab pipe leaks too. Molds are extremely unhealthy and can contribute to health problems.
Solutions for
Totally damaged slab pipes
Epoxy restoration : It requires little demolition of the home but gives durable solutions.
Re routing : It is a go-to choice if slab leaks occur frequently. Rerouting basically means to discontinue slab pipes and have new pipes placed above ground. This is, however, a specialized area of work and can be performed only by certified experts like the ones Cali's Choice offers.
Repiping : Lower cost options are available such as pipe lining or coatings for damaged pipes. But if they are not going to give long-term value, the best option is replacement of the slab pipes with new and better quality pipes.
Repair Experts of Slab Leak Riverside CA
Our company policy has always been customer oriented. We do not ever compromise with quality. We undertake repair processes with a focus on hygiene and minimum disruption to your routine activities. We hire only extremely skilled and seasoned professionals. A good work of plumbing will eventually help you to save costs ahead in time because the products used will last longer. Get the help of the best plumbers in Riverside for slab leak repairs or any other plumbing requirements. Call Cali's Choice.