You've come to the right place if you're looking for an excellent plumbing service. With no excuses or scheme, we'll come to your aid whenever you need us. The timing of your call can never be wrong – that's because we provide 24 hour plumbing service in Tustin. No matter where you are in Tustin, CA, we'll have you covered when you need the services of a professional plumber. We enjoy serving homeowners at any hour of the day, night, on the weekends and even holidays.
Once you hire a plumber from our established team, you can put away your tools and relax. From years of experience to specialized skills, our technicians have everything we need to handle plumbing projects of any scope. Whether there's a leaky pipe, a clogged toilet or a draining issue, you can rest assured that a solution from us will solve the problem. We're true professionals with a commitment to your satisfaction. Through our tried-and-true services, we can certainly provide high-quality work that will bring you peace of mind.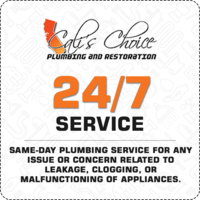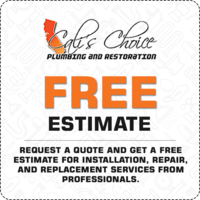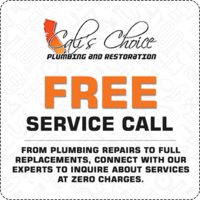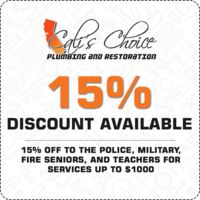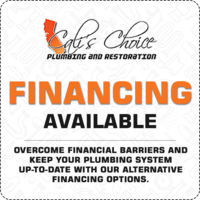 Why is it Important to Hire an Experienced Plumber?
As technology advances, residential plumbing systems will become more sophisticated. When they malfunction, it's going to take extensive knowledge to fix them right, so you're going to need the expertise of an experienced 24 hour plumber in Tustin. There isn't one plumbing problem that we can't nip in the bud. Since we don't believe in cutting corners on any job that we undertake, you can count on us to tackle each task correctly the first time.
We have a reputation for quality that we're committed to protecting. When you find yourself in an emergency situation or when you have a particular project that needs to be completed before a certain date, a non-professional won't be able to deliver the quality assistance that you require, but Cali's Choice Plumbing & Restoration can. Whether you need us to install and repair your water heater system or rainwater tank or , we're up to the challenge.
Your Trustworthy and Dedicated Professionals
You know there's a problem with your plumbing when you find water in a place where it shouldn't be, so why leave your home at risk of serious water damage? As your preferred, licensed plumber in Tustin, we'll gladly come to the rescue with a turnkey solution because our No. 1 goal is to fulfill your plumbing needs. We also want to help protect your investment. We stand behind our services, and our plumbers are fully equipped with all the tools of the trade.
Instead of getting your hands dirty with a do-it-yourself project, let us step in on your behalf. We enjoy repairing clogged toilets, replacing leaky pipes and tackling plumbing projects. Because we value you and your family, you can rest assured that you'll be a priority. We'll come on time and treat your property with respect, and we'll get done with our plumbing work promptly. Contact us today to schedule an appointment if you need the 24 hour plumbing service in Tustin.