Home to both one of the oldest historical "old towns" in Orange County and a thriving commercial community, Tustin, CA is recognized as a delightful place to live. Unfortunately, plumbing problems can happen even in idyllic surroundings. Leaks in water or sewer lines, known as slab leaks, can occur beneath a building's concrete foundation. Repairing them is a serious challenge. Cali's Choice Plumbing & Restoration is a trusted local company always ready to provide expert assistance when you need a slab leak repair service in Tustin, CA.
Whether it's a trickle through a tiny hole or a sudden gush caused by a significant pipe failure, slab leaks are a major issue because they are so hard to reach. The hot water, cold water and sewer lines that run under the foundation are all at risk.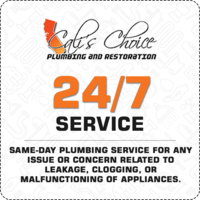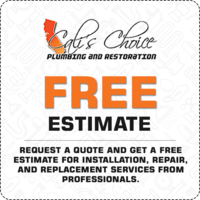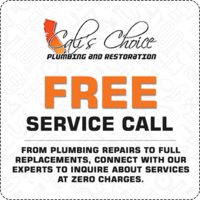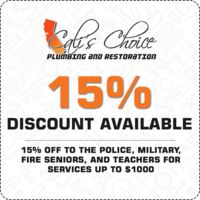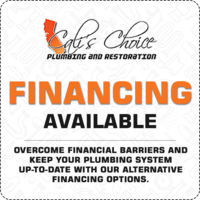 There are several possibilities, including:
Pipe movement

. Water traveling through a pipe has certain effects. The movement causes the pipe to vibrate, and changes in temperature lead to expansion and contraction. While these movements are small, they can be enough to shift the pipe, causing it to rub against other nearby objects. Over time, the movement and the resulting friction can result in weak spots that eventually become water leaks.

Inferior construction

. When water lines are installed, they must be supported and insulated properly. If this isn't done, then excess pressure can cause creases that will set the stage for cracks and water leaks.

Corrosion

. A chemical reaction between the soil, the pipe and the water moving through it, corrosion is bad news for water lines, especially ones made from copper and galvanized pipes. If left unchecked, corrosion compromises the lines, resulting in a loss of water pressure and leaks. Older homes often have copper and galvanized pipes, so anyone who owns this type of property should be aware of the signs of a slab leak.
Slab leaks aren't always visible, but there are warning signs. Be on the lookout for:
Water bills that are higher than normal
Cracks in the walls or floors as the result of the shifting slab
Mold or mildew under carpeting
Unexpected warm spots underfoot
Unexplained plumbing sounds
Slab Leak Tustin is a difficult task. After locating the leak, it's necessary to cut through the concrete slab to expose the plumbing beneath it. Only then can the damaged pipe be repaired or replaced. When you suspect that you have a slab leak, it's vital that you call a professional quickly. If the leak is allowed to continue, the damage is likely to be more extensive and the repairs needed to fix it will be costlier.
If you believe that you need a slab leak repair Tustin, don't hesitate to call our Tustin plumber. We'll verify that a leak is present, suggest the best approach to fixing the problem and get the job done promptly. Available 24/7, we're insurance-approved, so we can often work with your insurance company directly. Contact us today to schedule an appointment.