Water leaks in the foundation of a home or business can cause serious damage. If left unaddressed, slab leaks can cause mold and mildew growth, drive up your water bill and damage your foundation. That's why it's essential to call in slab leak repair specialists if you suspect a leak in your home or businesses. Cali's Choice Plumbing & Restoration are pros, available 24/7 to identify and perform slab leak detection and slab water leak repair Fountain Valley.
True to its name, a slab leak is a water leak that happens below the concrete foundation of your building. They can be caused by small leaks in pipes or by more significant issues such as a broken pipe. Hot and cold water lines and sewer lines are susceptible to slab leaks.
In theory, repairing the damaged pipe that's causing the slab leak isn't that hard. What is hard is finding the exact location of the leak and getting to it without destroying your foundation. It's essential to work with a professional who has the expertise and know-how needed to cut through concrete and fix the problem.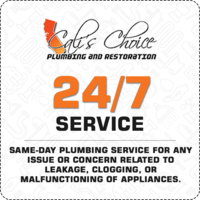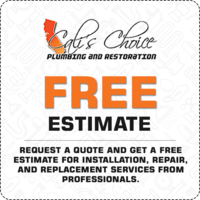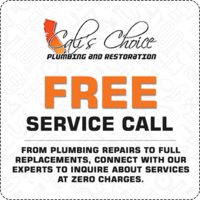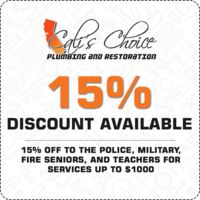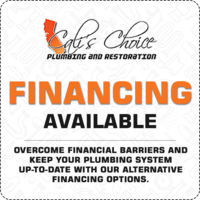 Many home and business owners whose properties are affected by slab leaks wonder what caused the issue in the first place. In truth, several factors can cause slab leaks:
Corrosion

: Chemical reactions between piping and water in the surrounding soil can cause corrosion – this creates holes in waterlines, which leads to the loss of water pressure. Corrosion is especially common with the galvanized and copper piping typically found in older homes.

Vibrations

: As water runs through pipes, it can cause them to vibrate. Changes in water temperature can also cause expansion and contraction of lines. These factors can lead to pipes that shift and rub against one another or surrounding materials. If too much vibration occurs, pipes eventually crack and start leaking.

Poor Construction

: If there's too much pressure on a water line, the line will crease and eventually crack. Water lines must be properly supported and insulated beneath the slab.
Does Your Property Have a Slab Leak?
There are several common symptoms of slab leaks. You may have a slab leak at your property if you notice:
running water or plumbing noises when all taps are turned off,
unusually warm spots in your floor,
cracks in walls or floors,
mildew or mold underneath carpeting, and
unexplained increases in water bills.
If you believe that your home or business might have a slab leak, it's important to call a professional as soon as possible. A professional experienced in slab leak repair can verify that you have a leak and suggest a course of action. Remember that leaving a damaged water line in your floor can lead to higher repair costs and serious structural problems.
Cali's Choice Plumbing & Restoration is proud to provide slab leak repair service Fountain Valley. We're insurance approved and can usually work directly with your insurer on repairs. Call our Fountain Valley plumber now if you believe your property has a slab leak. We're here to help you 24/7.